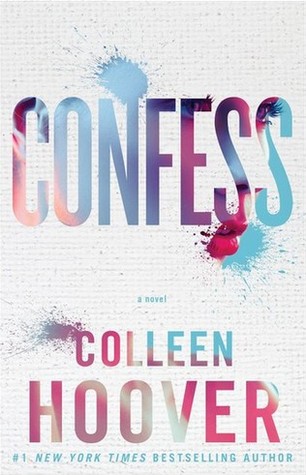 Confess by Colleen Hoover
My rating: 4 of 5 stars
Received: Bought
Publication Date: March 10th 2015
Publisher: Atria Books
Point of View: 1st Person & Alternative
Genres & Themes: New Adult, Contemporary, Romance, Family
BLURB:
From #1 New York Times bestselling author Colleen Hoover, a new novel about risking everything for love—and finding your heart somewhere between the truth and lies.
Auburn Reed has her entire life mapped out. Her goals are in sight and there's no room for mistakes. But when she walks into a Dallas art studio in search of a job, she doesn't expect to find a deep attraction to the enigmatic artist who works there, Owen Gentry.
For once, Auburn takes a risk and puts her heart in control, only to discover Owen is keeping major secrets from coming out. The magnitude of his past threatens to destroy everything important to Auburn, and the only way to get her life back on track is to cut Owen out of it.
The last thing Owen wants is to lose Auburn, but he can't seem to convince her that truth is sometimes as subjective as art. All he would have to do to save their relationship is confess. But in this case, the confession could be much more destructive than the actual sin…
REVIEW:
This is the kind of New Adult book I enjoy reading.
Confess wasn't a shallow, cheesy or overdone story; it was deep, evocative, realistic and damn hard to put down. Usually, I get quickly bored if a contemporary read has a slow-kill-me-now pacing and, while this one definitely had it, I COULD NOT STOP READING.
I read everywhere. I read in the bus, during recess, in the car while going grocery shopping with my mom (she actually doesn't mind it, but she keeps talking to me – she actually talks more when I'm reading) and in class. I don't do that. I never do that. I even find it disrespectful for someone to be connected on Facebook, for example, when the teacher is speaking… yet, I just wasn't able to turn off my tablet, put it aside, and continue living on without knowing what will happen to Auburn.
She got to me. Her story touched a part of my heart I had no idea could be affected. I wanted to strangle everyone that hurt her. I wanted to shield her from Trey, from Lydia, and help her get the happy ending she deserved. Because she did deserve for everything to turn out well for her. She might have appeared weak by moment but GOD DAMN the things she went through… and her need of keeping someone she loved close to her prevented her from doing whatever her heart desired but instead choose what felt RIGHT and SAFE. So it is very likely that you will be frustrated or deceived by her during your reading. Personally, I took those emotions and splashed them at the ''villains'' in the story.
Something I hate with New Adult stories is when they spotlight characters that are DESPERATE for romantic love, for a relationship, for sex and would do anything to get those things. Auburn was a woman that was willing to sacrifice so much for someone… that I cannot tell you about, and seeing her accepting to let go of Owen whom she was in love with and treated her well, in order to never lose that person in question (it might surprise you to discover who that is!) released my admiration.
Circumstances made it that there was an insta-love between the two main protagonists from whom we actually have the point of views. I say ''circumstances'' because it seemed as if everything, when they first met, brought Auburn and Owen together and created a connection between them, including their sharing of a same middle name! Those were details but sometimes it's the little details that can make a relationship between two people look firmer than any other one.
Oh, how I loved the writing. Beautiful, smooth… ❤
I always thought Colleen Hoover to be way too overrated… but, believe me, I'm taking that thought back.
PS. The paintings were completely stunning!