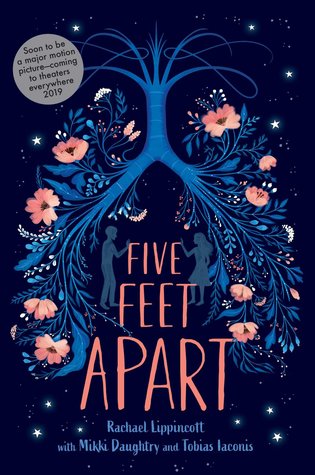 Five Feet Apart by Rachael Lippincott
My rating: 4 of 5 stars
Received: Simon & Schuster Canada
Published: 2018
Publisher: Simon & Schuster BFYR
Recommended Age: 12+
Genres & Themes: Young Adult, Romance, Coming of Age, Illness, Family
---
REVIEW:
This was my first romance novel in… months. I couldn't bring myself to read a story that focused heavily on a boy and a girl falling in love for a long time.
That's what happens when there is boy drama (and its aftershocks) in my life. I needed to step away from romance and focus on other things or my mind would keep wandering to that one boy with whom I really (mistakenly) believed something might happen.
So I turned to self help books and memoirs for a while. It helped, it really did. But a few days ago I remembered I had this book downloaded and I felt ready to dive back into romantic love that makes you dream and think that the world isn't such a bad place after all.
I thought I would feel jealously seeing Will be so good to Stella and so, so romantic with her. But I didn't… which made me realize that maybe I'm stronger than I thought. Maybe I'll be able to appreciate seeing other people fall in love and not feel a pang of anything and be happy for them because I've never thought of myself as a pessimist or cynical person. Maybe I moved on…
This was a lovely story. I'm not at all surprised a movie was made out of it. It's engaging, original, relatable, and emotional. Also, it teaches you about Cystic Fibrosis (CF) and that's very important. I'm actually looking forward to reading another love story soon…
Follow me on:
Youtube | Twitter| Instagram | Google+ | Goodreads | Bloglovin'