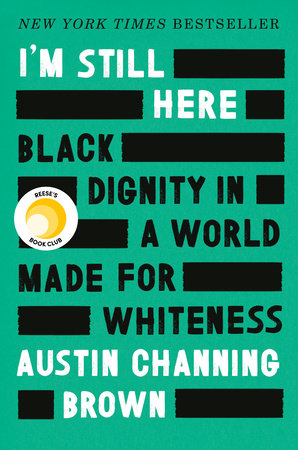 I'm Still Here: Black Dignity in a World Made for Whiteness by Austin Channing Brown
My rating: 4 of 5 stars
Received: Publisher
Published: May 15th, 2018
Publisher: Convergent Books
Recommended Age: 14+
Pacing: Normal
Genres & Themes: Adult, Memoir, Nonfiction, Race, Social Justice, Discrimination, Religion
---
BLURB:
Austin Channing Brown's first encounter with a racialized America came at age 7, when she discovered her parents named her Austin to deceive future employers into thinking she was a white man. Growing up in majority-white schools, organizations, and churches, Austin writes, "I had to learn what it means to love blackness," a journey that led to a lifetime spent navigating America's racial divide as a writer, speaker and expert who helps organizations practice genuine inclusion. In a time when nearly all institutions (schools, churches, universities, businesses) claim to value "diversity" in their mission statements, I'm Still Here is a powerful account of how and why our actions so often fall short of our words. Austin writes in breathtaking detail about her journey to self-worth and the pitfalls that kill our attempts at racial justice, in stories that bear witness to the complexity of America's social fabric–from Black Cleveland neighborhoods to private schools in the middle-class suburbs, from prison walls to the boardrooms at majority-white organizations.
The best time for me to read a memoir is after finishing a fantasy novel – in this case The Wicked King – because while fiction and non-fiction do share similarities (at least they should), plunging into something very different makes you even more aware of what you're reading currently.
This is the kind of memoir I like reading. I recently learned that the word ''memoir'' can apply to both an exploration of someone's life, like a biography, or writing on a specific topic, like an essay.
Although I don't exclusively read memoirs that fit the first definition, I do prefer it. It's then no surprise that I was immediately captivated by this book. It's not only that the author talks about her early life – childhood, adolescence and coming of age in general – all of which I adore reading about, it's that she uses her communication skills to share her views and explore her past and present in such an honest and relatable way.
She denounces racism and questions today's society's view of Blackness and Whiteness using examples easy to understand and comparisons that immediately put things in perspective. One metaphor she used that especially spoke to me was how the world is so much like vanilla ice cream – white – with only a few chocolate sprinkles on the top, but that this is not how it should be, because although the sprinkles add flavour, they are dispensable. And Blackness should not be replaceable. It is here to stay.
It also never crossed my mind that some companies may hire people of color and of other ethnicities simply to take pride in their own ''inclusivity,'' while not necessarily wanting to hear any of those people's ideas or welcome their culture with them. Many assume they will ''assimilate.'' Some are even baffled by their new black employees who refuse to assimilate, choosing to keep their individualities.
I have read non-fiction books that discuss discrimination and race relations in the past, but the truth is that I will never stop learning. Even if I was aware of some of the things mentioned in this memoir, I still ended up learning a lot. That's because we never do stop learning. Nor should we ever want to.
Follow me on:
Youtube | Twitter| Instagram | Google+ | Goodreads | Bloglovin'