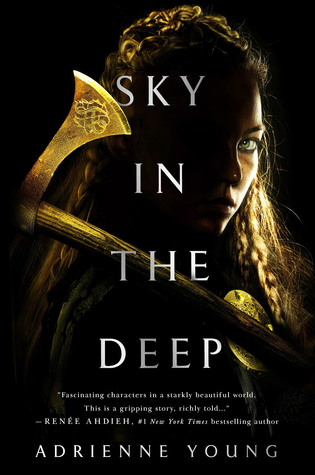 Sky in the Deep by Adrienne Young
My rating: 4 of 5 stars
Received: Distributor
First Published: April 24th, 2018
Publisher: Wednesday Books
Recommended Age: 12+
Pacing: Normal
Genres & Themes: Young Adult, Fantasy, Family, Honor, War Setting
---
BLURB:
Raised to be a warrior, seventeen-year-old Eelyn fights alongside her Aska clansmen in an ancient, rivalry against the Riki clan. Her life is brutal but simple: fight and survive. Until the day she sees the impossible on the battlefield—her brother, fighting with the enemy—the brother she watched die five years ago. Faced with her brother's betrayal, she must survive the winter in the mountains with the Riki, in a village where every neighbor is an enemy, every battle scar possibly one she delivered. But when the Riki village is raided by a ruthless clan thought to be a legend, Eelyn is even more desperate to get back to her beloved family. She is given no choice but to trust Fiske, her brother's friend, who sees her as a threat. They must do the impossible: unite the clans to fight together, or risk being slaughtered one by one. Driven by a love for her clan and her growing love for Fiske, Eelyn must confront her own definition of loyalty and family while daring to put her faith in the people she's spent her life hating.
More often than not, when I pick a YA fantasy up, I am not expecting to be surprised. Entertained, maybe, and possibly charmed, but not surprised. Never surprised. I feel like if I do, I am setting myself up for disappointment on purpose.
Because rare are the YA fantasy books that are so original they don't immediately remind you of previous fantasy books you've read. This is why it's extremely easy for readers and professionals to market those stories as ''said book'' meets ''said book''.
It's when you're unable to do that when you review a book that you realize that what you hold in your hands is completely fresh. And isn't that an amazing feeling? To know that you may have just read a new classic that will allow for more stories about Vikings to be published in the future?
To my surprise, it is more character-driven than action-driven. It is interesting because there is strong, intense action in the beginning and for the last one hundred and so pages of the story, but what is in-between is relatively calm and measured.
That is absolutely normal, seeing that when Eelyn becomes a captive, she is unable to pursue her past activities that mostly involve fighting. She is forced into a submissive life that consists of her performing household duties and helping the enemy in different ways. Clearly, as she is doing those things, she is planning her escape and how she will get back at her kidnappers. At the same time, she is torn since the brother she thought lost forever is back into her life as one of her new enemies.
Eelyn is a fully fleshed out heroine. She may be out for blood and not progressive-thinking, but I understood where she came from. In her culture, honour goes above everything. By being taken from her group as she was fighting the enemy, she believes she has lost her honour in the eyes of her God. It is imperative that she recuperates it, otherwise she will not be allowed access to the afterworld. Her motives are justified. But I also liked that she found it in her to see the world through her enemy's eyes.
I was happy to be reading a standalone YA fantasy novel, as those are fairly rare, but now that I finished it and loved it, I want more. This is a satisfying novel, though, so this is just me being greedy.
Follow me on:
Youtube | Twitter| Instagram | Google+ | Goodreads | Bloglovin'