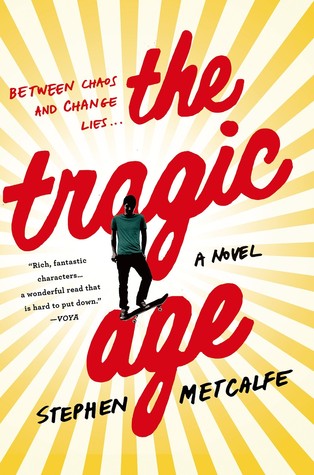 The Tragic Age by Stephen Metcalfe
My rating: 3 of 5 stars
Received: Publisher
Publication Date: March 3rd 2015
Publisher: St. Martin's Griffin
Point of View: 1st Person & Masculine
Genres & Themes: Young Adult, Contemporary, Psychological, Love, Life
Goodreads | Amazon.ca | Indigo
BLURB:
This is the story of Billy Kinsey, heir to a lottery fortune, part genius, part philosopher and social critic, full time insomniac and closeted rock drummer. Billy has decided that the best way to deal with an absurd world is to stay away from it. Do not volunteer. Do not join in. Billy will be the first to tell you it doesn't always work— not when your twin sister, Dorie, has died, not when your unhappy parents are at war with one another, not when frazzled soccer moms in two ton SUVs are more dangerous than atom bombs, and not when your guidance counselor keeps asking why you haven't applied to college.
Billy's life changes when two people enter his life. Twom Twomey is a charismatic renegade who believes that truly living means going a little outlaw. Twom and Billy become one another's mutual benefactor and friend. At the same time, Billy is reintroduced to Gretchen Quinn, an old and adored friend of Dorie's. It is Gretchen who suggests to Billy that the world can be transformed by creative acts of the soul.
With Twom, Billy visits the dark side. And with Gretchen, Billy experiences possibilities.Billy knows that one path is leading him toward disaster and the other toward happiness. The problem is—Billy doesn't trust happiness. It's the age he's at.  The tragic age.
Stephen Metcalfe's brilliant, debut coming-of-age novel, The Tragic Age, will teach you to learn to love, trust and truly be alive in an absurd world.
REVIEW:
THE TRAGIC AGE is the kind of novel that begins at the lowest possible level of enjoyment and, chapter after chapter, makes its own way to becoming a memorable read.
I had a similar experience with THE CATCHER IN THE RYE. If you've read it, then perhaps you remember how the character – Holden – always seemed to have an opinion on everything. The author portrayed him as an alienated boy, someone who didn't feel like he belonged anywhere. While Billy Kinsley was a slightly different version of Holden, they could be compared quite easily. That is why, at first, I felt irked by him instead of having positive thoughts regarding his character. He kept shooting at us these facts that made him look like a know-it-all person. I cannot stand these types of main characters.
So I feared he would become actually pretentious. But he never did. The facts in question turned interesting and I came to look forward to them in fact. Some I did already know (the one about the handshake and the warrior women) but they nonetheless brought something original to the story. The only thing that I have to bring up, about Holden Billy is that he was judgemental… He criticized people and even made a lot of caricaturist, generalized remarks. I won't linger on it, because he after all was a teenager and a human being and human beings tend to judge and think in a way we might not always approve of. Yet, I must admit that I did not keep a straight face when he mentally called a girl fat. I wasn't happy about that at all. It disappointed me.
The writing was very pleasant and the fast-pacing of the story more than great. It did start off slow though, and that might be another reason why I wasn't into it at the beginning. Some characters were stereotyped, clichéd but there was a wide range of them and their distinctive personalities made it that I rarely felt the narrative becoming monotonous or dull, especially when the group of friends – Billy, Twom, Ephraim – was reunited. Their interactions, along with the ones between Billy and his new girlfriend, were I could say what I enjoyed most about this novel. The plot was okay but THE TRAGIC AGE, in spite of being a thought-provoking read, had a relatively simple story when you think of it. Not unoriginal, just… noncomplex in term of events. Where we could see its complexity was in the psychology of the protagonist, Billy.
Not the best YA contemporary I have read this year or the worst for that matter, but it was an entertaining and intense enough read and, despite its multiple weaknesses, there were things to admire about it, especially Billy's honesty. Yes, I wasn't always fine with his way if thinking or behaving, but no one's as perfect as an angel. Flawed characters are in fact the ones people can most relate to.