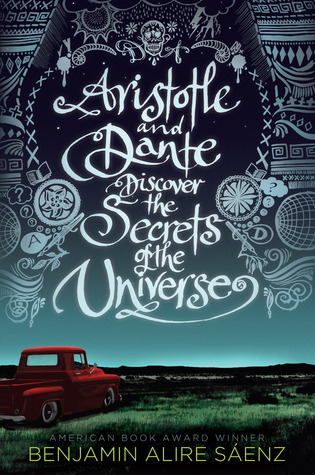 Aristotle and Dante Discover the Secrets of the Universe by Benjamin Alire Sáenz
My rating: 5 of 5 stars
Received: bought (and so glad I did!)
Publication date: February 21st 2012
Publisher: Simon & Schuster Books for Young Readers
Genres & Themes: YA, Coming of Age, LGBT, Contemporary, Friendship, Trust, Family, Loyalty.
BLURB:
Aristotle is an angry teen with a brother in prison. Dante is a know-it-all who has an unusual way of looking at the world. When the two meet at the swimming pool, they seem to have nothing in common. But as the loners start spending time together, they discover that they share a special friendship—the kind that changes lives and lasts a lifetime. And it is through this friendship that Ari and Dante will learn the most important truths about themselves and the kind of people they want to be.
REVIEW:
Oh gosh, my feelings are all over the place.
It started in a very captivating way. I liked the narrator. Aristotle-nicknamed Ari-is a calm fifteen-year-old boy who prefers being alone…He doesn't feel comfortable being around people his age but that doesn't necessarily mean he's a recluse. Everyone things he's sad and lonely but, really, he doesn't mind it.
And then he meets Dante.
Dante who made him see the world differently. Gosh, how much I loved that character. Everything about him made me think of an angel, a sweet sweet angel. I wish the world was filled with more people like Dante because this world would have been a much lovelier place.
This is really a coming of age YA novel. Even though it's shelved as LGBT (which IS true and shelved it myself as it too), there is a good part of this story where it doesn't feel that way. It's mostly about friendship, family, trust, loyalty and being honest to ourselves and who we truly are. Then, comes the LGBT part and romance as well. I have to say that I throughout the story craved to see some romantic affection between Ari and Dante. There aren't many scenes at all that show some, because Ari isn't gay…
Or is he?
I kept wondering while reading and felt like I knew, right inside me, the answer, except that I never could have been one hundred percent sure. Gladly, we do get an answer. Actually, every answer I could have had regarding events, characters and scenes were answered and that is a big plus to the book.
The writing, at first, didn't quite work for me to be honest. It's a very simple style. The kind I could write myself without any problem. EXCEPT, we could actually feel as if it were really Ari's writing and that is an exceptional thing and very a witty way of writing a story when I think of it. I do admit that sometimes I really wished we had Dante's POV, just to know how he thinks and what's in his mind. Wait, I do know what-or who should I say-he's always thinking of. I just think at least one scene would have been so spectacular to have narrated by him.
It's weird because Ari has sisters (and a brother) but we never actually really got to meet them or get to know those sisters. I don't even remember his sisters' names, if the narrator even told us their names in the first place. Shame because I really wanted to get to know them.
I'm so glad this story includes an animal, being the animal lover that I am. I feel like they usually bring a nice atmosphere inside a story and this one-a dog-sure did.
Also, you need to know that this is a sad story. I mean, sure, there are many cute and happy moments, but drama usually follows. Plus, with that kind of atmosphere, how could I have held back my tears?
Do I recommend this book? Like air…
Would you consider voting for this review on Goodreads, if it was helpful? 🙂