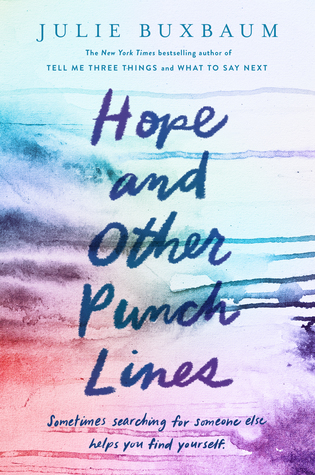 Hope and Other Punchlines by Julie Buxbaum
My rating: 3 of 5 stars
Received: Penguin Random House Canada
Published: May 7th, 2019
Publisher: Delacorte Press
Recommended Age: 12+
Genres & Themes: Young Adult, 9/11, Contemporary Romance, Family Drama, Coming of Age
---
REVIEW:
This is my third book from Julie Buxbaum and frankly I don't know if I should continue with her stories. The first book I read from her, Tell Me Three Things, I couldn't finish. The second book, What to Say Next, I enjoyed but I remember disliking the love interest or not feeling particularly moved by the romance. Well, same thing happened here. Abbi and Noah are definitely a good match because they don't annoy one another and simply care about each other tremendously. I know, my expectations regarding soul mates are not very high nowadays.
But I did not fall head over heels for Noah like Abbi does because his humour did not work for me. He is socially awkward, as in he doesn't always understand (or care) when it's time to be serious. Instead, he makes (bad) jokes whenever he feels like it. It's pretty obvious he loves attention and making people react. But I didn't outright hate him. He can be entertaining and sweet. Oftentimes I like characters because of how they interact with other people, not because of their ''voice,'' and Noah is good to Abbi (the majority of time).
This is a gripping story about a teen survivor of 9/11 (Abbi, AKA Baby Hope) and the boy who needs her help seeking out other survivors who may provide him with answers to his questions. Abbi is reluctant to spend time with him in the beginning, since she disagrees with the idea of questioning survivors, but the more she gets to know Noah, the more she understands him and where he's coming from. I found this to be a convincing romance and overall tale. I even learned from it. For instance, I had no idea many 9/11 survivors ended up developing cancer due to exposure to toxic residue. That's heart-breaking. I also enjoyed the author's writing style and the maturity she breathed into Abbi, despite her decision to lie to the people she loves.
Yeah, I'll probably read this author's future release, too. Might as well since I've become fairly acquainted with her style and this was a well-told story, despite annoying Noah.
Follow me on:
Youtube | Twitter| Instagram | Google+ | Goodreads | Bloglovin'