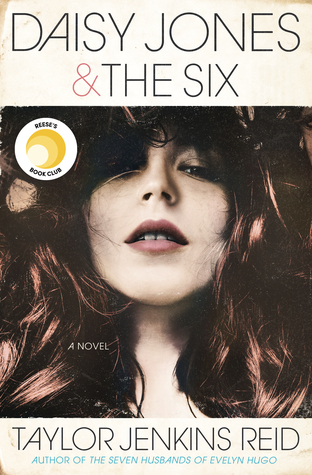 Daisy Jones & The Six by Taylor Jenkins Reid
My rating: 5 of 5 stars
Received: Penguin Random House Canada
Published: March 2019
Publisher: Doubleday Canada
Recommended Age: 15+
Genres & Themes: Adult, Romance, Music, Realistic Fiction, Addiction, Family, Love/Hate Relationships
---
REVIEW:
This was pretty darn fascinating. I have never read anything like it before and that alone deserves praise from me because I don't frequently find myself reading something I have no clue what other book to compare it with. I also have no clue how the author came up with such an original idea, which makes me really want to develop superpowers in order to read her mind. Just a little.
I have always had a thing for enigmatic characters, so it's no wonder I became obsessed with Daisy Jones, like pretty much the rest of the world. I don't admire her addiction or lack of self-realization, but I do admire her confidence, effortless style, talent and ability to simply… not care. Until, of course, she does. Turns out life really doesn't conspire to make all of your wishes come true.
The interview format of the story worked for me perfectly. The main reason why I had no qualms with it was because when there are interviews featured in the stories I read, they add a je-ne-sais-quoi to the atmosphere, so having 300+ pages of interviews was quite something and added realism to the multi-dimensional characters and multi-layered story. Plus it's an absolute breath of fresh air to have meaningless description found in most stories replaced with continuous smart dialog and recollection of events.
It starts slow, very innocently, with background on Daisy Jones, Billy and the other musicians. But the further you read, the more you know and the more the characters' dynamics are revealed to you. There is drama, of course, but it's a quiet, almost calculated drama that somehow is elusive at first, then gains momentum as the interviews progress, until it explodes into a hundred flames.
Loved this book. If you hated it, wait at least a few days to tell me why or I will judge you relentlessly.
Follow me on:
Youtube | Twitter| Instagram | Google+ | Goodreads | Bloglovin'