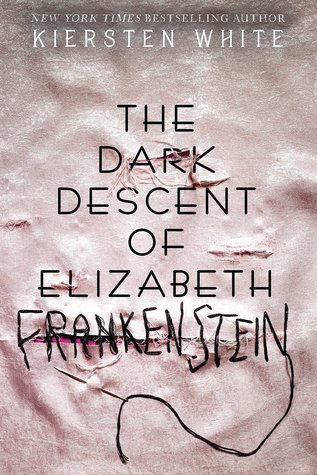 The Dark Descent of Elizabeth Frankenstein by Kiersten White
My rating: 4 of 5 stars
Received: PRH Canada
Published: 2018
Publisher: Delacorte Press
Recommended Age: 13+
Genres & Themes: Young Adult, Mystery, Retelling, Historical Fiction, Gothic, Fantasy, Sci-Fi, Childhood Friendship
---
REVIEW:
I am so glad I finally got around to reading this book, after months of deliberation (and a bit of procrastination), because Kiersten White develops her ideas in interesting ways. Granted, this is a retelling, so credit must be given to Mary Wollstonecraft Shelley as well, as the author of the original Frankenstein tale, which White would approve of based on her note at the end. But inspiration aside, this retelling stands out in a pool of other books of its kind.
The main reason for that is the author's careful development of the women's various roles in the story. Yes, we have the creator of the monsters, a male. And indeed patriarchy dominates and women are subdued. But they are not silent and they prove themselves to be intelligent, ambitious and astute protagonists, especially Mary and the heroine herself (Elizabeth). Justine's role is important as well, seeing that she causes a shift in Elizabeth, but she is not a heroine. A trusted kind-hearted side-kick, more like.
Slow-pacing not being my favourite cup of tea, I had to take a break between each of the three parts. More action would certainly have made this even more gripping of a story, but the mystery and the smart dialog has a way of keeping you hooked and hopeful for a satisfying conclusion. Speaking of conclusion, I am unsure if this is a standalone, given the cliff-hanger-ish last page, but I sure am excited about the way the story ended. I personally figured out the identity of the monster early on, so I failed to fall off my bed during the revelation time, though I certainly was pleased with the other twists and turns the author surprised me with, notably the one regarding Mary's character.
I did not enjoy Kiersten White's recently published work – Slayer – so I'm ecstatic this turned out to be a winner for me. If you're still in deliberation mode, let me make it easy for you: READ IT.
Follow me on:
Youtube | Twitter| Instagram | Google+ | Goodreads | Bloglovin'