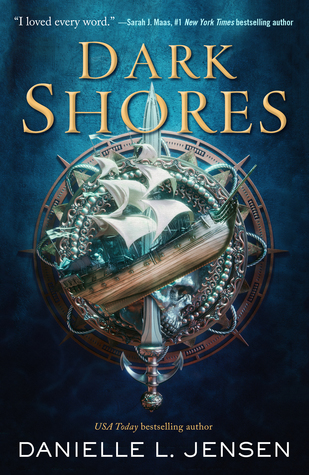 Dark Shores by Danielle L. Jensen
My rating: 2 of 5 stars
Received: Raincoast Books
Published: May 7th, 2019
Publisher: Tor Teen
Recommended Age: 13+
Genres & Themes: Young Adult, Fantasy, Adventure, Piracy, Politics
---
REVIEW:
This is a DNF for me. I instantly knew after reading the first page that it would be a DNF. Sometimes you just know. It's like when you meet someone knew. The first conversation you have with that person can determine whether you can connect on a deeper level or not. Of course, it's good to give the other person a more meaningful chance than one simple conversation, so I pushed through that boring first page. But like most relationships, if the beginning isn't beautiful, the rest of it usually isn't. It CAN get better, but that's extremely rare and involves growth.
I'm actually shocked this didn't work for me. Aside from being one of my most anticipated adventure books of 2019, I just really enjoyed this author's debut – Stolen Songbird – which I found exquisitely written and very gripping. But this felt as though it was written by another person entirely because although the writing flew, it did not have the magical quality Stolen Songbird did. I also did not find the heroine particularly likeable or mature. I kid you not, the first time I ''met'' Teriana, I thought she was eight or something, definitely not seventeen.
I had to smile a little awkwardly when I realized she was much older than I assumed in the first scene she was featured (which I thought was a memory from her childhood). Because that's just awkward. It's not like I wanted to force her to act her age but she seemed a bit lost in her head, not sure what to think and what to say and rarely carefully considered what people told her. Again, this is a DNF for me so maybe she grows throughout the novel. It's important to understand the characters you read about—see where they're coming from and what their values are—otherwise it's hard for the reader to understand the world they live in. And this being a fantasy world invented by the author, I NEEDED to understand it. Yet, I struggled to do so. I did like Teriana's badass family, though, and her courage, even though she's frequently careless.
I wonder if the author had teens read the manuscript. Somehow I doubt that because if she had asked young adults to give her honest feedback on her work, she would not have ended up assaulting the reader with politics right from the start and info-dumping like it's a race and we MUST know everything about the world at once! Boy was I confused. It was as though I was thrown into the third episode of season two of Game of Thrones, with no knowledge of what occurred in the past episodes.
Follow me on:
Youtube | Twitter| Instagram | Google+ | Goodreads | Bloglovin'