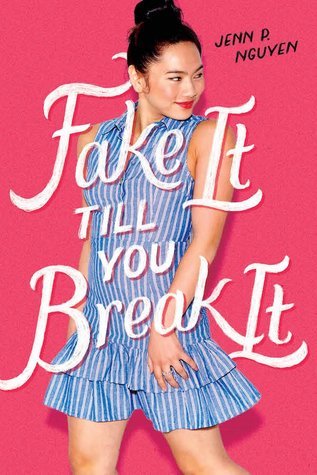 Fake It Till You Break It by Jenn P. Nguyen
My rating: 4 of 5 stars
Received: Raincoast Books
Published: May 28th, 2019
Publisher: Swoon Reads
Recommended Age: 11+
Genres & Themes: Young Adult, Romance, Summer, Family, Love/Hate Relationships
---
REVIEW:
This is the perfect YA romance to read during the summer, perhaps at the beach or next to the pool or even late at night while everyone is sleeping and you're awake under the atmospheric moonlight. Just don't read it during a snowstorm, that's all I ask.
Some might call it cliché and predictable, but I call it entertaining and wish-fulfilling. Mia and Jake have known each other forever—they were best friends but now they don't know what they are, except their moms think they'd form the perfect couple so they are pushed together relentlessly. I found those attempts to bring them closer particularly enjoyable.
Reading this story for me was like watching a romantic comedy and because it has been a while since I've done that, what with university courses and reading sucking all my time, I was especially happy with the simultaneously awkward and romantic scenes between Mia and Jake who fake-date. Silly teenagers that they are, they don't yet know that whether you fake something or not, it may trigger side-feelings inside you that you cannot control. Hehe!
I just really love these fun Swoon Reads stories. This is an imprint that publishes stories that readers themselves basically choose. I've yet to read and give a rating to an unpublished/unselected written work on Swoonreads.com but now I'm thinking that if this year they're all as wonderful as this one, I might need to do that this summer while I'm on vacation.
Follow me on:
Youtube | Twitter| Instagram | Google+ | Goodreads | Bloglovin'