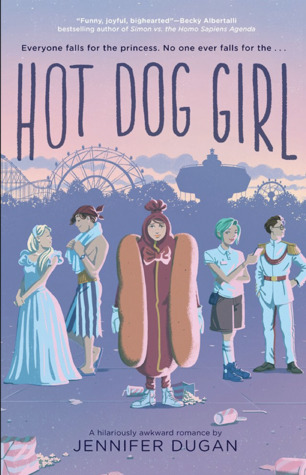 Hot Dog Girl by Jennifer Dugan
My rating: 3.5 of 5 stars
Received: PRH Canada & NetGalley
Published: April 30th, 2019
Publisher: Putnam
Recommended Age: 12+
Genres & Themes: Young Adult, Romance, LGBTQIA+, Summer, Friendship, Family
---
REVIEW:
This looks like a really fun and fluffy YA summer romance, but believe me when I tell you that it's more of a soap opera… at an amusement park.
Don't get me wrong, I thought it was entertaining and I would definitely recommend it to those who enjoy dramatic characters and scenarios as well as reading about different relationships blossoming and dying.
Just be aware that it's not exactly a ha-ha book. The heroine is engaging and sarcastic and super straight-forward so I was bound to enjoy her thoughts and super awkward moments, but I can one hundred percent see why she would drive other readers crazy.
The storyline revolves around the fact that the Magic Castle Playland is closing at the end of the summer, so the heroine has taken upon herself the responsibility of saving the park and is trying to recruit others to her mission.
But really it's a character-driven story. Lou has a crush on Nick who has a princess for a girlfriend who may or may not have a secret that Lou may or may not try to figure out while being told by her best friend she should stay out of it but is there something more going on with Seeley herself?
There is a lot going on, which makes this a fast-paced and entertaining story. Of course, Lou's straight-forwardness causes conflict and will irk many, but I personally found this to be a worthwhile read and I'm glad to see one more LGBTQIA+ book on the shelves hihi.
Follow me on:
Youtube | Twitter| Instagram | Google+ | Goodreads | Bloglovin'