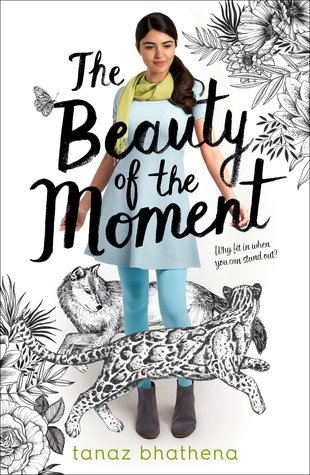 The Beauty of the Moment by Tanaz Bhathena
My rating: 3 of 5 stars
Received: Random House Canada
Published: February 26th, 2019
Publisher: Penguin Books
Recommended Age: 11+
Genres & Themes: Young Adult, Family, Cotemporary Romance, High School, Culture
---
REVIEW:
This book is VERY different from the author's debut novel which, by the way, I really enjoyed. Culture plays an important role here too, and relationships are developed, but it feels like a completely new book from a completely new author.
Weird, right? It's absolutely normal for two books to differ in content but usually the style of the author remains unchanged or almost. Yet here I barely recognized Tanaz Bhathena. It's a lovely story with likeable three-dimensional characters and, being a Canadian resident, I of course connected to the setting and enjoyed the references.
And yet, and yet. It also feels… amateur-ish. As though it was written VERY carefully. Tanaz's debut wasn't like that. It was bold, surprising, sad, heart-breaking, shocking, frustrating, maddening, and written in such a way that the author's words affected my body. THE BEAUTY OF THE MOMENT did not make me cry or laugh… it just was. Pleasant, true, but it's not addictive and I didn't feel like I needed-to-know-what-happened-next-or-I-would-go-crazy. In other words, the author didn't take enough risks. She… played it safe.
If I may, I think the author was very careful with her content and maybe even writing this time because some people complained about her debut. She even posted a comment on this book claiming there would be no deaths and that's something I think she did to appease her readers more than to be funny. Maybe. I don't know. All I know is that I was expecting to feel a little more. But again, the story is interesting and the characters fleshed-out. The reason why this seems like a negative review is because I was expecting something else.
Follow me on:
Youtube | Twitter| Instagram | Google+ | Goodreads | Bloglovin'