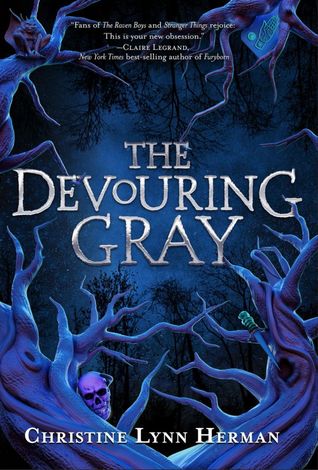 The Devouring Gray by Christine Lynn Herman
My rating: 4 of 5 stars
Received: Hachette Book Group Canada
Published: April 2nd, 2019
Publisher: Disney-Hyperion
Recommended Age: 12+
Genres & Themes: Young Adult, Fantasy, Magic, LGBTQIA+, Family, Friendship, Mystery
---
REVIEW:
I had my reservations going into this book because whenever an upcoming release is compared to something popular—in this case Stranger Things and The Raven Cycle—I feel pushed to have some kind of expectations that, if not met, will be the cause of my downfall.
Okay, a bit dramatic and incomprehensible, but all that to say that I didn't know what this book would turn out to be. Yet it surprised me by being a combination of familiar and original. I definitely understand the Stranger Things comparison and completely agree with it. Just like in Stranger Things, there is this alternate dark dimension where something dangerous and terrible breathes.
The comparison with The Raven Cycle is, however, weak. I think it resembles The Lynburn Legacy much more, what with the founding families that are both revered and despised in the town and the new girl that tries to unravel the town's mysteries and the descendants' too. Regardless, it is captivating and despite being a Disney title, it is pretty mature. Previous Disney-Hyperion titles have disappointed me by being very juvenile, but such was not the case here. Thank God.
Did anyone else ship Violet with Harper though? I so shipped them together. Not that I don't like the author's pairings—and actually, I like that there's a very limited amount of romantic anything—but after learning Violet was bi and meeting badass Harper, I kind of wanted them to make out. Oh well. Was that spoiler-ish? The author never says Harper is bi so really this was all in my head.
Follow me on:
Youtube | Twitter| Instagram | Google+ | Goodreads | Bloglovin'