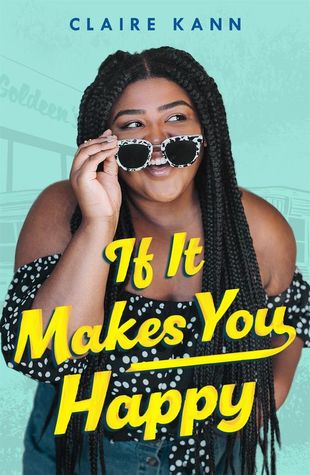 If It Makes You Happy by Claire Kann
My rating: 3.5 of 5 stars
Received: Raincoast Books
Published: June 4th, 2019
Publisher: Swoon Reads
Recommended Age: 12+
Genres & Themes: Young Adult, Summer, LGBTQIA+, Family, Romance, Friendship
---
REVIEW:
Having adored LET'S TALK ABOUT LOVE from the same author, I absolutely needed to read this book. But now that I have, it's hard to believe that the two were written by the same person.
For starters, this story is told from the first person POV, whereas Alice's story was in the third person. That was a very good surprise, because Winnie's voice is so strong. It was wonderful to be able to hear everything she was thinking directly. I cannot imagine someone claiming Winnie is a one-dimensional character, unless they have never met a real girl in their lives! Because Winnie is REAL and BEAUTIFUL.
At the same time, this was a much messier book than LET'S TALK ABOUT LOVE. I'm not even technically talking about the story (although that too isn't 100% clear); I'm talking about Winnie's thoughts. They are all over the place! Don't get me wrong, she's super interesting, relatable and a breath of fresh air, but boy does she love talking and thinking and living life day by day. It feels as though the author did not create a plan before starting to write this. Each chapter is more like a series of thoughts than a series of scenes.
But I did enjoy reading about the relationships in this book a lot, even if there is no plot per se. There is stuff happening, such as Winnie winning a competition, but the emphasis is on her interactions with the people in her life (and herself, in her own mind). I especially liked her and her cousin Sam's dynamics because I believe in creating strong ties with family members, even those that don't seem to have much in common with us.
IF IT MAKES YOU HAPPY is not an improvement upon LET'S TALK ABOUT LOVE exactly, because it's wordy and all over the place at times, showing that organization is important in a story, but it's a lovely summer read with themes of family, friendship and love.
Follow me on:
Youtube | Twitter| Instagram | Google+ | Goodreads | Bloglovin'