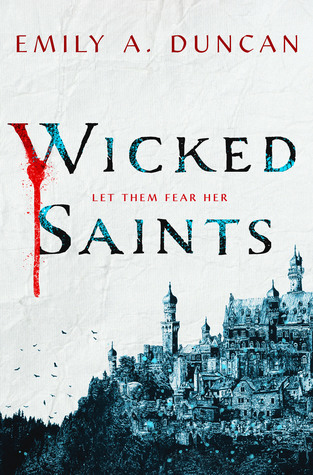 Wicked Saints by Emily A. Duncan
My rating: 4 of 5 stars
Received: Raincoast Books
Published: April 2nd, 2019
Publisher: Wednesday Books
Recommended Age: 12+
Genres & Themes: Young Adult, Fantasy, Magic, Action, Romance, Friendship
---
REVIEW:
I have to say, I was ready to hate this book. The cover attracted me, and so did the fact that it's YA Fantasy, and as much as I love to hate the genre if it becomes too cliché, part of me will always come back for more. I was ready to hate this book because I trust my friends' opinions and people seem to react very differently to this story.
I, for one, could not put it down. I found it action-driven, intense, fun, even funny at times, and although the characters gotta do what they gotta do, they often stop for a minute to appreciate one another. To thank someone for saving their lives. To offer support. To show that they care. It's not just about having this one goal and doing everything to achieve it and until that happens nothing else exists.
It's like university… it's time consuming and you could decide to only focus on your studies, but you also feel this need inside you for social interaction and connecting to people, even if briefly, because it makes your day better.
I very much enjoyed the fast pacing. I read it in the midst of midterms so I'm not going to lie and say I read it in one sitting but I did get to the 100th page in what felt like a snap of fingers and those 100 pages were filled with precarious, dramatic, unexpected situations. Not simply with description. Thank you.
I don't know if it's because I've been taking multiple religion courses this semester and the last, but I've become relatively open to religion or anything of the sort in my reads. For instance, the main character can communicate with different gods and goddesses who lend her powers and I LOVED THAT. Whereas a year ago I might have said, ''that's… too much for me.'' I found the heroine's interactions with the higher beings actually… funny. They have a personality, and so do the rest of the cast. Cannot wait for more!
Follow me on:
Youtube | Twitter| Instagram | Google+ | Goodreads | Bloglovin'