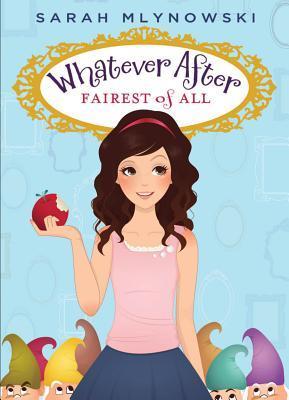 Fairest of All by Sarah Mlynowski
My rating: 3.5 of 5 stars
Received: Library
Published: 2012
Publisher: Scholastic, Inc.
Recommended Age: 7+
Genres & Themes: Middle Grade, Fantasy, Fairy Tale Retelling, Magic, Adventure, Family, Humor
---
REVIEW:
This was a charming feminist retelling of Snow White and the Seven Dwarfs for middle graders (or anyone who enjoys a story well told). Abby and her brother Jonah have found a magical mirror in their basement that can transport them from their mundane world to a fairytale one.
For their first trip, they have landed in a forest leading to the house of Snow White, where she resides with her workaholic companions. Knowing the events occurring in the fairytale, this sibling duo thinks they're doing the right thing by stopping Snow White's stepmother from poisoning her… But alas they have changed the whole story! Now, how is the prince going to save her? Perhaps there is more to Snow White than we thought…
This is a short tale full of energy from the characters' part, unexpected events that can turn a well known (and perhaps a little bit dull) fairytale into an adventure-packed one that can make you wish to slash your own favourite classic tales and turn them into something else. I can't wait to see what Abby and Jonas do in Cinderella's story. I am all in.
Follow me on:
Youtube | Twitter| Instagram | Google+ | Goodreads | Bloglovin'