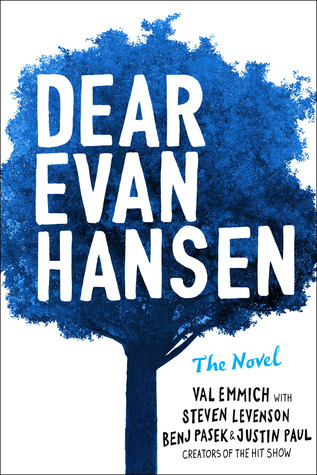 Dear Evan Hansen by Val Emmich
My rating: 4 of 5 stars
Received: Hachette Book Group Canada
Published: October 9th, 2018
Publisher: Poppy
Recommended Age: 12+
Genres & Themes: Young Adult, High School, Mental Health, Suicide, LGBTQIA+, Romance
---
REVIEW:
This was my first time reading a novel based on a play. And you know what? Even though I had no idea what to expect and had mildly bad experiences with novelizations in the past, this was quite the positive experience.
It becomes obvious after the first couple of chapters that this story was modified to fit the novel format because of the way certain scenes unfold or the text itself, but that only adds to the specialness of the book.
The idea is unique: a dead teenager is found with what appears to be a suicide note in his pockets, pushing the parents to reach out to whom the letter is addressed—Evan Hansen. But it was Evan who wrote the letter… to himself. And now he's involved in something he didn't want part of, but that may be the best thing that has happened to him despite the tragedy of the situation.
I thoroughly enjoyed the story, writing, light love story, mental health theme, and Evan Hansen as well as the people in his life. Evan is someone imperfect. He lies. He overlooks. He dodges. He hides. And yet, you can't help but sympathize and wish for things in his life to turn around. You even understand many of the bad choices he makes, for they are difficult. At least I did.
Apparently the play doesn't even compare to the book, that's how incredible it is, but alas I will never know. I'm just grateful to have had the opportunity to follow Evan Hansen as he navigates his last year of high school, makes new friends and tries to deal with a very delicate situation.
Follow me on:
Youtube | Twitter| Instagram | Google+ | Goodreads | Bloglovin'