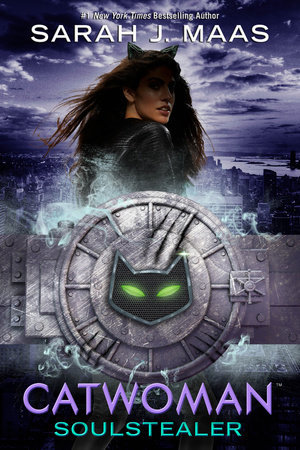 Catwoman: Soulstealer by Sarah J. Maas
My rating: 3.5 of 5 stars
Received: Penguin Random House Canada
Published: August 7th, 2018
Publisher: Random House BFYR
Pacing: Fast
Recommended Age: 12+
Genres & Themes: Young Adult, Action, Superheroes, Family, Romance, Friendship
---
BLURB:
Two years after escaping Gotham City's slums, Selina Kyle returns as the mysterious and wealthy Holly Vanderhees. She quickly discovers that with Batman off on a vital mission, Batwing is left to hold back the tide of notorious criminals. Gotham City is ripe for the taking. Meanwhile, Luke Fox wants to prove he has what it takes to help people in his role as Batwing. He targets a new thief on the prowl who seems cleverer than most. She has teamed up with Poison Ivy and Harley Quinn, and together they are wreaking havoc. This Catwoman may be Batwing's undoing.
I feel similarly about this book as I did about Wonder Woman: Warbringer and Batman: Nightwalker. Even though all three were written by different authors, their writing styles and narration styles are similar. My guess is someone is either very very heavily editing these novels or the authors were told very very specifically how to write these superheroes and superheroines' adventures.
That's the thing—I don't feel enough of the author in these books. It's as though literally anyone could have written them and the fact that Sarah J. Maas gave life to Selina matters little if I don't recognize Maas' style as much as I do in her other works. That's why I can't bring myself to give any of these books four or five stars even if the story holds together.
It's actually rather entertaining, exactly the kind of story I would love to see being brought to screen or be turned into a TV series. Catwoman has been my favourite heroine since I was eight years old and watched the Catwoman movie starring Halle Berry, which I was shocked to learn did horrendously at the box office and was named worst movie of the year or something of the like.
And I did enjoy reading about the secondary characters—Selina's badass team—more than I did about Wonder Woman's friends which seemed to pop out of nowhere. It wasn't their unusual abilities that made them seem more interesting to me or the fact that they were not entirely unfamiliar: it was their fierceness and unique personalities that made them stand out. I have to say I may have liked Harley even more than Selina just because you can never predict her actions or replies and there's a mysterious fire in her.
All in all not at all a bad book but I do wish the writing style had been less generic and for a deeper connection to Selina to have been possible.
Follow me on:
Youtube | Twitter| Instagram | Google+ | Goodreads | Bloglovin'