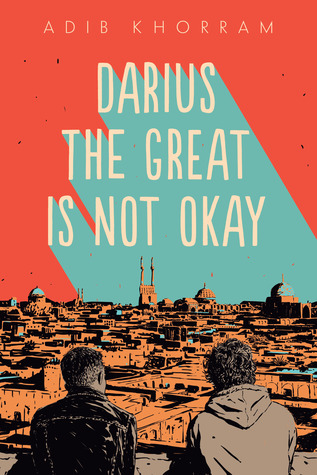 Darius the Great Is Not Okay by Adib Khorram
My rating: 4 of 5 stars
Received: Penguin Random House Canada
Published: August 2018
Publisher: Dial Books
Pacing: Fast
Recommended Age: 12+
Genres & Themes: Young Adult, Family, Mental Illness, Persian Culture, LGBTQIA+, Friendship, Depression
---
BLURB:
Darius Kellner speaks better Klingon than Farsi, and he knows more about Hobbit social cues than Persian ones. He's about to take his first-ever trip to Iran, and it's pretty overwhelming–especially when he's also dealing with clinical depression, a disapproving dad, and a chronically anemic social life. In Iran, he gets to know his ailing but still formidable grandfather, his loving grandmother, and the rest of his mom's family for the first time. And he meets Sohrab, the boy next door who changes everything. Sohrab makes sure people speak English so Darius can understand what's going on. He gets Darius an Iranian National Football Team jersey that makes him feel like a True Persian for the first time. And he understands that sometimes, best friends don't have to talk. Darius has never had a true friend before, but now he's spending his days with Sohrab playing soccer, eating rosewater ice cream, and sitting together for hours in their special place, a rooftop overlooking the Yazdi skyline. Sohrab calls him Darioush–the original Persian version of his name–and Darius has never felt more like himself than he does now that he's Darioush to Sohrab. When it's time to go home to America, he'll have to find a way to be Darioush on his own.
I used to believe that the first chapters of a story set the tone for the whole book, but DARIUS THE GREAT IS NOT OKAY proved me wrong.
See, I had trouble picturing the events happening in the first twenty or so pages. I couldn't picture the characters, settings or figure out the relationships between people. But the more I read, the better it got and this is not something I get to say very often.
This book quickly escaladed from a DNF to a three-star-rating to a deserved four-star-rating. Darius is someone that you may dislike at first—find him pessimistic, sarcastic and just not fun to be around—but the moment where he allows himself to be vulnerable with us, the reader, everything changes.
So much that I feel a little disheartened to be leaving him. I feel thoroughly invested in his relationship with his family, newfound friendships and, of course, his future. The writing makes it so easy to understand his thoughts and the first person POV works absolutely perfectly.
I *have* read books with characters struggling with depression before, so none of Darius' reactions shocked me, but I do want to say that I learned a lot about how *other people* may view depression and these types of books are simply amazing because they HUMANIZE people with mental illnesses. Yes, Darius has his moments, but he is a breathing, living human being with a beautiful heart and sense of loyalty.
Follow me on:
Youtube | Twitter| Instagram | Google+ | Goodreads | Bloglovin'