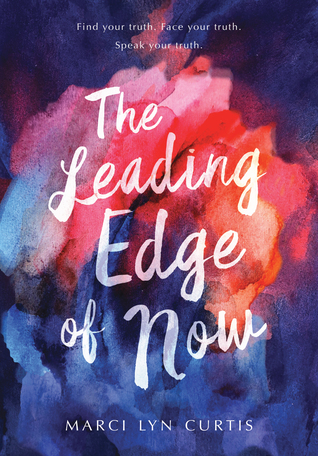 The Leading Edge of Now by Marci Lyn Curtis
My rating: 4 of 5 stars
Received: Hachette Book Group Canada
Published: September 4th, 2018
Publisher: KCP Loft
Recommended Age: 12+
Pacing: Fast/Normal
Genres & Themes: Young Adult, Sexual Assault, Mystery, Grief, Family, Friendship, Romance
---
BLURB:
Just when Grace is beginning to get used to being an orphan, her estranged uncle suddenly comes forward to claim her. That might have been okay if he'd spoken to her even once since her father died. Or if moving in with Uncle Rusty didn't mean returning to New Harbor. Grace once spent the best summers of her life in New Harbor. Now the place just reminds her of all she's lost: her best friend, her boyfriend and any memory of the night that changed her forever.
TRIGGER WARNING – Rape.
You know, I used to think trigger warnings were unimportant, until someone commented on one of my reviews thanking me for putting up a trigger warning because they didn't want to experience this kind of trauma again. That sure changed my perspective.
I'm not surprised this author managed to write another emotional roller coaster after reading her debut – The One Thing – and loving it so much. Even though her main characters are unlikeable at times, sarcastic and passive-aggressive, even, her writing blows me away each time.
This is the type of story you can't stop reading, not necessarily entirely because you're sucked into the story or deeply invested in the characters (although both of those things can be true), but because the writing just FLOWS and to stop reading this book is to interrupt a river from flowing.
It does slow down in the last 60-ish pages, seeing that by that point the ''climax'' had already occurred and the rest of the story is more of a long epilogue than the continuation of a plot, so be sure that if the writing hadn't kept me engaged, I would have removed at least a .5 in my rating. Thank goodness for beautiful and lyrical writing that conjures emotions as well as poets themselves.
This is the story of a girl with a broken past that slowly makes its way into her present. Grace doesn't think she can handle the hurt, shame, pressure, but she doesn't need to be alone in this, and indeed there are people ready to help her deal and move on. Grace may be a victim… but what she has yet to realize is that she is a survivor, too.
Very moving.
Follow me on:
Youtube | Twitter| Instagram | Google+ | Goodreads | Bloglovin'