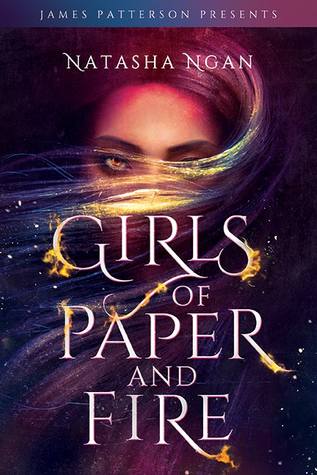 Girls of Paper and Fire by Natasha Ngan
My rating: 3 of 5 stars
Received: Hachette Book Group Canada
Published: November 6th, 2018
Publisher: Jimmy Patterson Books
Recommended Age: 14+
Pacing: Fast
Genres & Themes: Young Adult, Fantasy, Romance, Violence, LGBTQIA+, Sex, Power
---
BLURB:
In this lush fantasy, Lei is a member of the Paper caste, the lowest and most oppressed class in Ikhara. She lives in a remote village with her father, where the decade-old trauma of watching her mother snatched by royal guards still haunts her. Now, the guards are back, and this time it's Lei they're after–the girl whose golden eyes have piqued the king's interest. Over weeks of training in the opulent but stifling palace, Lei and eight other girls learn the skills and charm that befit being a king's consort. But Lei isn't content to watch her fate consume her. Instead, she does the unthinkable–she falls in love. Her forbidden romance becomes enmeshed with an explosive plot that threatens the very foundation of Ikhara, and Lei, still the wide-eyed country girl at heart, must decide just how far she's willing to go for justice and revenge.

In Lei's world, demons rule over mortals and she, a Paper girl—the lowest of the casts—has no power whatsoever. Until she is sent to serve the king—in bed, mainly—and creates allies. She then realizes she might just have power after all and be meant for more than bedding the enemy.
The problem is that dear Lei feels too much. She lets her emotions show on her face at all times and reacts without thinking first. She gets in trouble because she doesn't take the time to question and plan, someone else usually does that for her.
The world itself stands out. I haven't read a story with demons in some time, and there's something interesting about having supernatural creatures and mortals live in the same dimension—you never know what could happen. And in this particular case, there's also the question of who Lei is. Why does she have golden eyes? Why her? What's her role in this world?
Even if I complain about Lei, I'm glad she's the main character. The other ones, aside from the love interest, thankfully, are rather two-dimensional. The Demon King himself lacks teeth. I mean, in theory, he is all-powerful and dangerous, but somehow I wasn't able to take him seriously because he seemed to only have one single personality trait—he was arrogant through and through.
It's an exciting, romantic and bold tale—one that I would recommend to mature readers. Though this isn't a standalone, is it? If it is indeed one, and no companion novel (at least) gets published, I am entirely unsatisfied with the ending. What of the characters? What of the world? What of the future? All seems to float in the air and nothing is quite certain.
Follow me on:
Youtube | Twitter| Instagram | Google+ | Goodreads | Bloglovin'