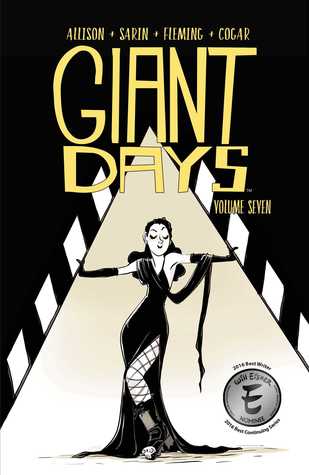 Giant Days, Vol. 7 by John Allison
My rating: 4.5 of 5 stars
Received: Diamond Comic Distributors
Published: March 27th, 2018
Publisher: BOOM! Box
Recommended Age: 13+
Genres & Themes: Young Adult, Comic, Humor, Friendship, Romance, University Life, LGBTQIA+
---
BLURB:
Fast friends Susan, Daisy, and Esther continue their second year at Sheffield University, and these are formative times, indeed. Education and looking ahead to the future isn't all that college holds in-store for these ladies–grocery store protests, family reunions, and even an MMORPG wedding are all on this semester's docket.
If you're reading this and you haven't picked up this series already, it is about time you do. You will not regret your experience meeting Daisy, Susan and Esther (and many more characters).
This is just unlike any comic I've read before, and perhaps I've said that before, but I needed to say it again because this volume proves it even more.
First of all, situation comedy comics with, you know, real life-like events and drama are rare to begin with in this world. There are many more fantasy and action comics than slice-of-life ones.
Not only that, everything that comes out of these girls' – Daisy Susan and Esther – mouths is completely different from what you may expect. As in, I can never predict what any of the girls are going to say or how they will react to a situation.
And that's what makes this series so unique and fun. It's very nuts, because although most of it is realistic, and can therefore happen in real life – technically – the characters themselves seem to come from another world entirely, due to their brains processing information in a completely distinct way.
I love it so much. These volumes seriously make my day and I was sincerely happy to meet all the family members for Christmas with the girls. I felt like I was really there.
Follow me on:
Youtube | Twitter| Instagram | Google+ | Goodreads | Bloglovin'