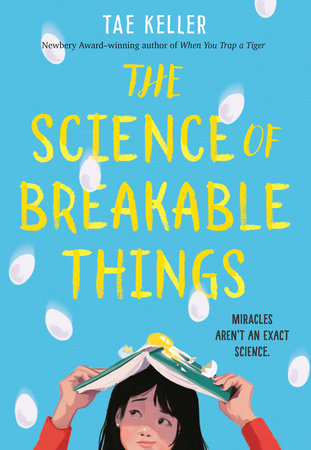 The Science of Breakable Things by Tae Keller
My rating: 3 of 5 stars
Received: Publisher
Published: March 6th, 2018
Publisher: Random House BFYR
Recommended Age: 8+
Pacing: Normal
Genres & Themes: Middle Grade, Realistic Fiction, Family, Mental Illness, Friendship
---
BLURB:
An emotionally-charged new classic about the science of hope, love, and miracles! Natalie's uplifting story of using the scientific process to "save" her mother from depression is sure to take root in readers' hearts!
Natalie's mother is depressed. But what is depression? Natalie isn't sure. All she knows is that one day her mom was okay—smiling, laughing, talking and being—and the next day she wouldn't even get out of her room, preferring sleep to seeing her own daughter.
Natalie wants deeply to save her mother from whatever is causing her to lose her vitality, but she doesn't know how. Would whatever idea she comes up with even work? Would it require a miracle?
It makes me happy to see books such as this one being published. Obviously not because I take pleasure from reading about characters with family members suffering from mental illness, but because – and I think I've said this before – when I was a kid I couldn't find one single book dealing with this topic. I didn't even know what ''mental illness'' was, let alone to look for it to understand it better. Yet, today, kids have more opportunities than ever to learn about such subjects.
This is a decent novel. But although some middle grade books are perfect for adults, this one does not quite fall under that category. It very much has a ''juvenile'' vibe and cheesy or cliché scenarios and lines. I was able to enjoy it because, having read so many middle grade stories in the past, I am not actually annoyed by those things anymore, even if they prevent me from giving the book a higher rating.
Natalie's love for her mother is beautiful and exactly the type of relationship I want to see being portrayed. Sometimes she is mad at her mother for ignoring her, and she fails to understand most of what is happening to her family, but slowly she is able to bring the pieces of the puzzle together, with the help of others, and she keeps hoping that one day her family will be alright again. She has faith. She has determination. She has love.
So, again, a good novel, but I have read much better this year.
Follow me on:
Youtube | Twitter| Instagram | Google+ | Goodreads | Bloglovin'