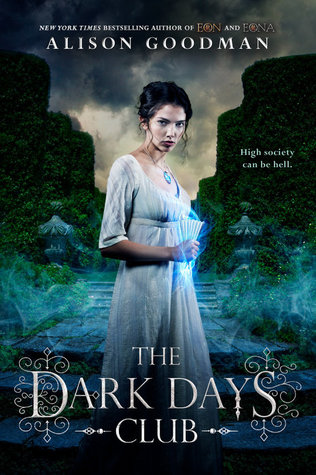 The Dark Days Club by Alison Goodman
My rating: 4 of 5 stars
Received: Publisher
Published: January 3rd, 2017
Publisher: Speak
Recommended Age: 13+
Pacing: Slow
Genres & Themes: Young Adult, Historical Fiction, Paranormal, Demons, Mystery, Romance
---
BLURB:
London, April 1812. On the eve of eighteen-year-old Lady Helen Wrexhall's presentation to the queen, one of her family's housemaids disappears-and Helen is drawn into the shadows of Regency London. There, she meets Lord Carlston, one of the few who can stop the perpetrators: a cabal of demons infiltrating every level of society. Dare she ask for his help, when his reputation is almost as black as his lingering eyes? And will her intelligence and headstrong curiosity wind up leading them into a death trap?
Imagine if, since the day you were born, someone has been telling you that all you are ever meant to be is fashionable, womanly, a wife and a mother?
But then someone unexpected comes into your life and shatters all you thought you knew about the world. Suddenly, you have more options. You can still marry, if that is your wish, and lead a mostly comfortable life.
Or you can fight demons.
To Lady Helen, it is not an easy choice, and she struggles with it for the entire book. Every time she thinks she has figured out her destiny and is about to make the final decision, something or someone comes along and messes with her mind again.
I'm not surprised this doesn't have more readers. It takes a long time to finish. I could have sincerely read two books in the time I read this one. The pacing is uneven, so there are faster passages, but the majority are pretty descriptive, and so, rather slow.
But I learned to appreciate them and, in consequence, Goodman's writing style. It shows that she made a tremendous amount of research before writing this story. It's been a long time since I heard of doctors ''bleeding'' their patients so they can recover. What a huge pot of nonsense. However, those are the sorts of details that give authenticity to a historical setting.
That said, I'm by no means fan of married love interests in YA fiction. Except, one must admit that Lord Carlston's situation is an extraordinary one and there is more to the story than we were told and made to believe.
This was my first Alison Goodman book and, ladies and gents, I am impressed. It is reminiscent of Cassandra Clare's The Infernal Devices, so that certainly helped my interest stay alive – after all, who doesn't wish they had super strength, were invited into a secret society and courted by two of the most untouchable men in London?
Not Lady Helen.
This is so, so much fun.
Follow me on:
Youtube | Twitter| Instagram | Google+ | Goodreads | Bloglovin'