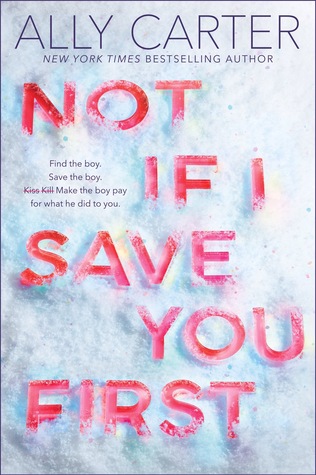 Not If I Save You First by Ally Carter
My rating: 4 of 5 stars
Received: Publisher
Published: March 27th, 2018
Publisher: Scholastic Press
Recommended Age: 12+
Pacing: Fast
Genres & Themes: Young Adult, Adventure, Survival, Romance, Friendship
---
BLURB:
Maddie thought she and Logan would be friends forever. But when your dad is a Secret Service agent and your best friend is the president's son, sometimes life has other plans. Before she knows it, Maddie's dad is dragging her to a cabin in the middle of the Alaskan wilderness.
No phone.
No Internet.
And not a single word from Logan.
Maddie tells herself it's okay. After all, she's the most popular girl for twenty miles in any direction. (She's also the only girl for twenty miles in any direction.) She has wood to cut and weapons to bedazzle. Her life is full. Until Logan shows up six years later . . . And Maddie wants to kill him.
Ally Carter is back, baby!
Alright, so she never actually ''left,'' but I can't help but feel super excited when the author of one of my all time favourite series – The Gallagher Girls – publishes a new book.
Even if said book is a standalone, which is unlike Ally Carter. She's known for her mystery series for teenagers, but she isn't exactly known for writing one-shot stories. So part of me does wander why she didn't make this a series.
But I'm okay with her decision. As much as I enjoyed reading about Maddy and her dangerous adventures in Alaska, Ms. Carter wrapped things up very nicely in the last few pages. This was fast-paced, addictive and I genuinely felt trepidation reading it.
I can't say it's realistic, because it isn't. It isn't even ''movie'' realistic. Maybe ''sitcom'' realistic. The way Maddie talks to her and Logan's kidnapper would not lead to the same outcomes in real life. I can't really imagine someone even having the guts (crazy mind?) to talk back to a stranger pointing a gun at them.
But that's Maddie. And you know what? I never, ever go into an Ally Carter book expecting everything to make sense at one hundred percent. I mean, have you guys read Heist Society from this author? Like that's a plausible storyline.
And yet, it's entertaining, just like this book is. Perhaps it isn't deep enough to deserve four stars, but I rated this one based on my actual enjoyment of the story, not on the message or themes.
If you're wondering, yes, of course, there is romance. But the friendship between Maddie and Logan is much more explored than their romantic feelings for one another. Besides, they've been kidnapped; they have other fish to fry! Kind of.
What an unstoppable adventure! I would have read this in one sitting if I wasn't a human being who needs sleep.
Follow me on:
Youtube | Twitter| Instagram | Google+ | Goodreads | Bloglovin'