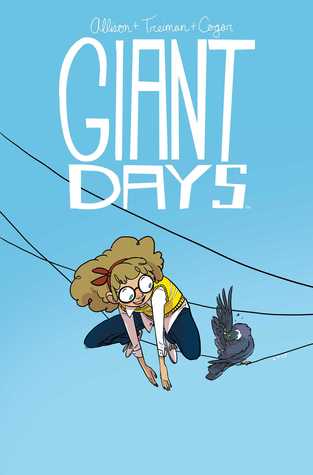 Giant Days, Vol. 3 by John Allison
My rating: 3.5 of 5 stars
Received: Distributor
Published: 2016
Publisher: BOOM! Box
Recommended Age: 12+
Pacing: Fast
Genres & Themes: Young Adult, Comic, Humor, Friendship, Romance, University Life
---
BLURB:
Best friends Susan, Esther, and Daisy are rounding out their first semester at university. The girls, along with their male hall-mates Ed and McGraw, find that college is more than academics and bad microwavable meals. Add some pub-hopping, hookups, breakups, and political scandal and this might just be the most eventful first semester ever.
There is quite a lot going on in this volume. Esther reunites with a former friend. Susan gets heavily involved with her school's politics, thus creating tension between McGraw and her. Ed tries to get over his infatuation with Esther. And Daisy… well, Daisy is being the good sidekick that she is.
Shouldn't Daisy be doing more? Saying more? She's a great friend, that's for sure, and her role does become more important towards the end of the volume, but once again it's more about Esther and Susan than about her. It's not exactly equal attention. Like, she had a crush in previous volumes, but that didn't go anywhere, and although Susan and Esther (and even Ed) all have their own romances, Daisy's love life remains kind of blank.
So I'm excited to see more of her, but I predict a lot of Esther drama due to the huge cliff-hanger in this one. Boy, oh boy. Did anyone expect that? I certainly did not. I'm not going to spoil it for you, but let's just say that Esther will need her friends.
This trio warmed up to me. In the beginning, I didn't care about them. I thought they were fine but no more. Now, I wish these three girls were real girls I could hang out with. They make TV dramas seem pointless. Why watch Modern Family when you could read about Esther, Susan and Daisy having the time of their lives at university? (And some not-so-great times, too.)
I'm kidding. Modern Family rocks. Nothing can replace it. But nothing can replace these girls either. So because there was so much going on in this specific comic, it doesn't feel as though there is a storyline per se, or that it's developing in a specific direction, which is why I didn't like it as much as the previous volume, but it still is a valuable addition to the series. And once again, my god that ending! I'm seriously excited about the drama that is bound to unfold. I will be reviewing the fourth volume soon. Stay tuned, hehe. 🙂
Follow me on:
Youtube | Twitter| Instagram | Google+ | Goodreads | Bloglovin'