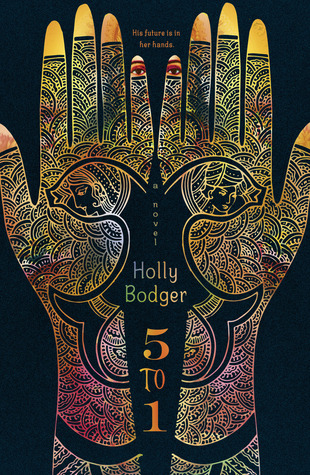 5 to 1 by Holly Bodger
My rating: 5 of 5 stars
Received: Publisher
Publication Date: May 12th, 2015
Publisher: Knopf BFYR
Recommended Age: 13+
Pacing: Fast
Genres & Themes: Young Adult, Dystopian, Feminism, Freedom, Competition
---
BLURB:
In the year 2054, after decades of gender selection, India now has a ratio of five boys for every girl, making women an incredibly valuable commodity. Tired of marrying off their daughters to the highest bidder and determined to finally make marriage fair, the women who form the country of Koyanagar have instituted a series of tests so that every boy has the chance to win a wife. Sudasa, though, doesn't want to be a wife, and Kiran, a boy forced to compete in the test to become her husband, has other plans as well. As the tests advance, Sudasa and Kiran thwart each other at every turn until they slowly realize that they just might want the same thing.

This book is as beautiful interiorly as it is exteriorly.
But I didn't expect it to affect me this much.
When I was about to turn fifteen, I got up extra early so I could finish my chores and then listen to every minute of the tests. But after a few months, they all sounded the same. Different girl, different boys, but the rest: same same same. And still, the people here today have swarmed like flies to a rotting corpse. Someone should tell them they're a bit early. The corpses come after the tests.

However, it did. I've always been the kind of person to fight for what she wants and ignore everyone who ever told me to give up, that it's not worth it, that it would be too difficult for me, that I would tire of it, that that's not who I am, and so on. I guess I might be a little bit strong-headed but, if I weren't, I don't know where I would be, today, and what kind of person I would have become. Submission, it is not for me. Not when it feels wrong.
And it isn't for Sudasa either. She doesn't know exactly what would be best for her, having been told all her life that marrying and bearing a child girl is her duty as woman in Koyanagar, but she sure as hell knows that marrying her cousin won't bring her happiness and the life she deserves. Her Tests, she despises them. She doesn't want them, doesn't want to be served and to spend her life fulfilling a 'role' the government assigned her.
The director introduces my cast of contestants
By n#mber:
One, Two, Three, Four, Five.
I'm not introduced.
Am the blue ribbon they need to win.
The prize of life for one, lucky boy.

I'm conscious of the fact that the writing style for Sudasa's chapters might not please every reader. The quote shared above represents exactly the kind of writing you will stumble upon when being in the girl's mind. And it works so well. I didn't think it would, after remembering the catastrophe that was We Were Liars, in my opinion, but, in this case, it offers a rawness and lyrical style that weave a human being with countless qualities trying to figure out who she is and wants to become. She's true to herself and believes in fairness. I loved that about her.
I do think that the world-building isn't worth as much as it could have been, but, no fear, you will not be confused. The author explains the 'Tests' and how they were created in the first place in a clear, however, occasionally, in an non detailed, way. It does necessitate a bit of imagination and belief from your side, because some events aren't convincing enough, but I didn't mind it.
It is very hard for an author to write a dystopian book that makes sense throughout, for this genre requires to be written in explicit detail and being linked in some sort of way to our world of today, to be credible. But, even with all its flaws, 5 to 1 manages to be convincing enough, really. I could easily imagine women being oppressed by men rebelling and wanting complete control over their lives. But I, for sure, couldn't agree with controlling other people's lives.
We're allowed jobs…
eventually.
Jobs the boys aren't trusted to do.
Medicine.
Law.
Politics.
Teaching other girls?

They'd never give me
a position like that.
They'd be worried I'd be like Papa:
Full of opinions.
Not like Mummy:
Full of fears of speaking them.

A must read.
Follow me on:
Youtube | Twitter| Instagram | Google+ | Goodreads | Bloglovin'