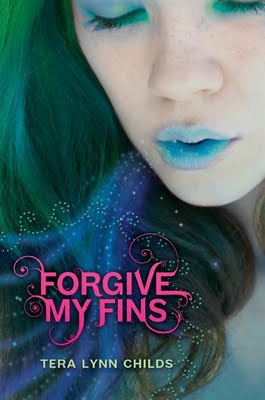 Forgive My Fins by Tera Lynn Childs
My rating: 3 of 5 stars
Received: Bought
Published: 2010
Publisher: HarperCollins
Recommended Age: 10+
Pacing: Fast
Genres & Themes: Young Adult, Romance, Mermaids, Humor, Love-Triangle, Drama
---
BLURB:
Seventeen-year-old Lily, half-mermaid and half-human, has been living on land and attending high school, where she develops a crush on a boy but is afraid to tell him of her true destiny as the ruler of the undersea kingdom of Thalassinia.
I haven't read a mermaid story in so long I almost forgot they existed.
I went into this one expecting to be buried under an avalanche of cuteness, and that's exactly what happened.
I'm going to tell you right off the bat that it's childish and the main character immature as well as single-focused on getting the boy she wants, so do not pick it up if you wish for great depth and a complex world.
But do pick it up if you've missed mermaids, too, and are often entertained by teenage girls who make poor decisions in the department of love.
Even the author is single-minded. Hello, there are other characters in the story, and yet they serve little to no purpose, unless it's to support/torment Lily. They do not stand on their own.
Fortunately, Lily grows on you, and I have to say, I wasn't at all bothered by her love interest. Well, the second one. Yes, he acts like an alpha male sometimes – and a jerk – but I saw the good in him, and how can one not acknowledge his steaminess and undying love for Lily?
I can't give this book more, despite its fun content, because I don't feel as though it's a worthy addition to the collection of mermaid stories out there, seeing that it is predictable and under-developed, but I did find some of its elements unique, such as the idea of bonding through kisses and ''challenges'' linked to counselling required for a merperson to break a bond.
That epilogue also got me really curious about the sequel. Nicely played.
Follow me on:
Youtube | Twitter| Instagram | Google+ | Goodreads | Bloglovin'