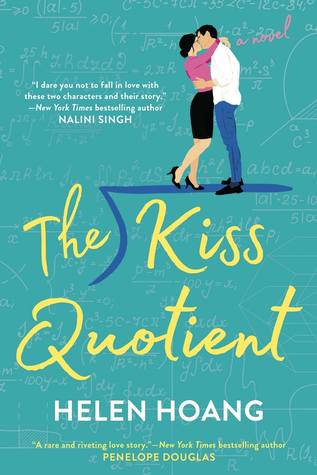 The Kiss Quotient by Helen Hoang
My rating: 2 of 5 stars
Received: Publisher
Published: June 5th, 2018
Publisher: Berkley
Recommended Age: 16+
Pacing: Fast
Genres & Themes: Adult, Contemporary, Romance, Autism, Relationships, Erotica
---
BLURB:
Stella Lane thinks math is the only thing that unites the universe. She comes up with algorithms to predict customer purchases–a job that has given her more money than she knows what to do with, and way less experience in the dating department than the average thirty-year-old. It doesn't help that Stella has Asperger's and French kissing reminds her of a shark getting its teeth cleaned by pilot fish. Her conclusion: she needs lots of practice–with a professional. Which is why she hires escort Michael Phan. The Vietnamese and Swedish stunner can't afford to turn down Stella's offer, and agrees to help her check off all the boxes on her lesson plan–from foreplay to more-than-missionary position… Before long, Stella not only learns to appreciate his kisses, but to crave all the other things he's making her feel. Soon, their no-nonsense partnership starts making a strange kind of sense. And the pattern that emerges will convince Stella that love is the best kind of logic…
I am… not impressed.
How lovely that this is an #ownvoices novel. Stella is autistic, as is the author, and so, no one can say that it is not authentic.
But the storyline is not, however, very realistic.
See, Stella is bad at sex, or so she says. She's also bad at relationships and human interactions in general. So she hires Michael, an escort, to teach her a thing or two.
Or three. *suggestive eyebrows*
I was entertained for the first fifty or so pages, then I became tired of the sex talk. Do we really need to talk about it in every single page? No, we don't.
I was expecting a smart romance, but it really isn't that original. Of course, the fact that the main character is autistic is a breath of fresh air, but I didn't connect with her. I *understood* her – she's pretty straightforward and eloquent – but none of the characters felt particularly three dimensional to me.
It's a lot of will they/won't they, but the reader knows that they will. Come on. So the fact that the protagonists are so confused about their feelings for one another gets old fast and becomes rather annoying. Enough!
It also isn't… romantic. Or extremely sexy. It's steamy at times – what with all the sex/foreplay I sure hope so – but it didn't summon stars in my eyes (or, anything else…) and I will soon forget about this couple. It didn't help that the writing was quite dry.
I know. This is an important book. But I won't rate a book highly if it didn't win my heart, especially considering that there are other *important* novels out there that actually managed to claim a place in my list of favourites.
Follow me on:
Youtube | Twitter| Instagram | Google+ | Goodreads | Bloglovin'