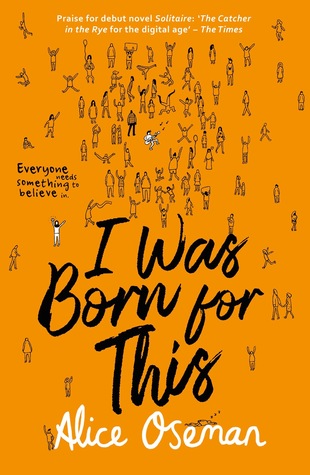 I Was Born For This by Alice Oseman
My rating: 4 of 5 stars
Received: Borrowed
Published: May 3rd, 2018
Publisher: HarperCollins
Recommended Age: 12+
Pacing: Normal
Genres & Themes: Young Adult, Fandom, LGBT, Coming of Age, Contemporary, Music, Celebrity, Friendship, Diversity
---
BLURB:
For Angel Rahimi, life is only about one thing: The Ark – a pop-rock trio of teenage boys who are currently taking the world by storm. Being part of The Ark's fandom has given her everything – her friendships, her dreams, her place in the world. Jimmy Kaga-Ricci owes everything to The Ark too. He's their frontman – and playing in a band is all he's ever dreamed of doing. It's just a shame that recently everything in his life seems to have turned into a bit of a nightmare. Because that's the problem with dreaming – eventually, inevitably, real life arrives with a wake-up call. And when Angel and Jimmy are unexpectedly thrust together, they will discover just how strange and surprising facing up to reality can be.
A new Alice Oseman book.
After Radio Silence blew me away, I became fascinated with this author who, by the way, published her first novel at nineteen.
I'm twenty, going on twenty-one, and what have I put into this world? A couple of reviews. Do they count? Let's say they do, for the sake of my sanity.
This is the story of Angel and Jimmy, two teenagers from two different worlds. Angel is a fangirl, whereas Jimmy is the one people fangirl or fanboy over—he's a famous and transgender singer from the band The Ark.
And somehow, these two meet and connect.
You think you know how a story is going to unfold… Only to realize that your imagination must be working overtime because this is nothing like you expected. Am I the only one who was waiting for Angel and Jimmy to fall in love?
Alice Oseman is great at making you root for two characters to be together. Now I understand why her two previous novels explicitly say in their descriptions something like "this is not a love story."
So, as we have established, this is not a conventional love story. Or a love story, period. Angel's love for Jimmy is selfish, because this music group makes her feel better—it gives meaning to *her* life.
And yet, even if the plot went into a completely different direction than I first anticipated, it was very interesting. See, Jimmy doesn't have it all figured out, and neither does Angel. Their interactions are precious, because they help each other realize what's important to them—and that is not selfish at all.
It's realistic, the characters relatable, the tone light but serious when needed, the pacing perfect and, above it all, full of themes.
It takes an extremely long amount of time for Angel and Jimmy to meet, so they don't have as many interactions together as I would have liked, but I love these two characters to pieces.
What can I say? Alice Oseman did it again.
Follow me on:
Youtube | Twitter| Instagram | Google+ | Goodreads | Bloglovin'