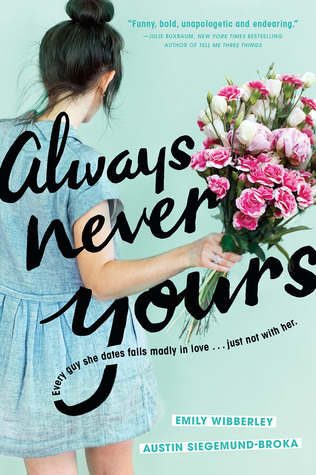 Always Never Yours by Emily Wibberley and Austin Siegemund-Broka
My rating: 3 of 5 stars
Received: Publisher
Published: May 22nd, 2018
Publisher: Penguin Teen
Recommended Age: 13+
Pacing: Normal/Fast
Genres & Themes: Young Adult, Romance, Theatre, Love & Relationships
---
BLURB: 
Megan Harper is the girl before. All her exes find their one true love right after dating her. It's not a curse or anything, it's just the way things are, and Megan refuses to waste time feeling sorry for herself. Instead, she focuses on pursuing her next fling, directing theatre, and fulfilling her dream school's acting requirement in the smallest role possible. But her plans quickly crumble when she's cast as none other than Juliet–yes, that Juliet–in her high school's production. It's a nightmare. No–a disaster. Megan's not an actress and she's certainly not a Juliet. Then she meets Owen Okita, an aspiring playwright who agrees to help Megan catch the eye of a sexy stagehand in exchange for help writing his new script. Between rehearsals and contending with her divided family, Megan begins to notice Owen–thoughtful, unconventional, and utterly unlike her exes, and wonders: shouldn't a girl get to play the lead in her own love story?
Am I crazy, or does the model on the cover look Chinese? Granted, we only see her back, but the only reason why I requested this book was because I was looking forward to a YA romance with an Asian heroine that would be more readable than Emergency Contact.
Ah, to have expectations.
Turns out, Megan is… not Asian. In hindsight, I should have known. Then again, we usually see what we want to see. Still, there is diversity… like, one black gay secondary character and an Italian girlfriend who is more like a concept in the story than a real person.*
But let's move on. It's no one's fault but mine for anticipating more culture. This is actually a pleasant read. It's light for the most part, although it does eventually become more dramatic, and the dialogue + the heroine are vibrant.
Megan is a flirt. She notices a guy and chases him until she catches her prey. She doesn't take things slow, preferring to speed dial to get what she wants. Fortunately, she is unapologetic about it, not really caring what other people think of her flirty nature.
Unfortunately, she does partly blame her propensity for going from boyfriend to boyfriend on the opposite sex, claiming they dump her and move on with their real love, so she doesn't have a choice but to move on with someone else, too. So Megan has some growing up to do – which does happen… slowly. She may be flawed, but it's hard to hate her, because she does think about her own actions and how they affect the people around her.
As with most contemporary romances, this is a character-driven story. There are quite a few secondary characters, since Megan is part of the school play and so are her friends. They are dimensionalized enough for us to get a sense of their distinct personalities, but do not expect to learn their life stories exactly. That's fine, as long as I enjoy you, we're good.
It's really a romance, and a predictable one at that. Megan does talk about her family and aspirations, but her mind always rapidly goes back to the topics of boys and boyfriends and love and making out and sex. That's alright, I admire girls who own their sexual desires and don't slut-shame their own selves, but I had trouble connecting to her. Maybe it's me, but I don't know any girl who so intensely focuses on getting a boyfriend but does not care about falling in love.
Lovely writing, entertaining dialogue and heroine, as well as a sweet second love interest, but unsurprising YA romance that should have stopped trying to fool its readers sooner. Everybody knows who the real love interest is. Will, step aside. Owen, come to mama.
*Apparently, Owen is Asian American? But he doesn't add culture to the story, unfortunately, which is probably why that fled my mind when I wrote this.
Follow me on:
Youtube | Twitter| Instagram | Google+ | Goodreads | Bloglovin'