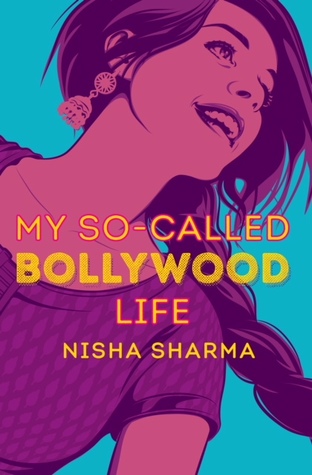 My So-Called Bollywood Life by Nisha Sharma
My rating: 3 of 5 stars
Received: Publisher
Published: May 15th, 2018
Publisher: Crown BFYR
Recommended Age: 11+
Pacing: Normal
Genres & Themes: Young Adult, Romance, Culture, High School, Film Industry
---
BLURB: 
Winnie Mehta was never really convinced that Raj was her soulmate, but their love was written in the stars. Literally, a pandit predicted Winnie would find the love of her life before her 18th birthday, and Raj meets all of the qualifications. Which is why Winnie is shocked to return from her summer at film camp to find her boyfriend of three years hooking up with Jenny Dickens. Worse, Raj is crowned chair of the student film festival, a spot Winnie was counting on for her film school applications. As a self-proclaimed Bollywood expert, Winnie knows this is not how her perfect ending is scripted. Then there's Dev, a fellow film geek, and one of the few people Winnie can count on to help her reclaim control of her story. Dev is smart charming, and challenges Winnie to look beyond her horoscope to find someone she'd pick for herself. But does falling for Dev mean giving up on her prophecy, and her chance to live happily ever after? To get her Bollywood-like life on track, Winnie will need a little bit of help from fate, family, and of course, a Bollywood movie star.
"As much as I love Bollywood damsels in distress, I don't need saving. I'm my own hero."
Right now, there's nothing else I want more than to watch a Bollywood movie and become as obsessed with them as Winnie Mehta is.
Personally, I'm sceptical of prophecies, and the astrologers that tell them, but Winnie isn't. Her whole family has their own ''pandit,'' who has helped them, in a way, find true love and happiness.
So although this is not part of my culture, and as a reader I certainly questioned the prophecy, for Winnie it is an important part of her present and future.
I loved that. Even if people around her tell her how crazy she is to, for instance, date Raj partly because his name starts with an ''R'' and he gave her a silver bracelet (just like the pandit said), Winnie doesn't let them take her belief away from her.
Except, after Raj cheats on her, she does start to look at the prediction differently and begins the process of taking control of her own destiny, in any way possible.
The Bollywood movie references went over my head. But Winnie – and so the author – does a good job of introducing me, a Canadian born Romanian girl, to the Indian film industry and the importance of cheesy stories with love triangles and dances and songs to the whole Indian population.
Actually, it was very sweet to see how much love matters to not only Winnie and her family, but the Indian boys she dates. There's nothing cuter than a boy who believes in love, and not because they think that's what girls like, but because they want a great love story, too.
Now, as lovely as it is, there are things that bothered me for sure, like the fact that even though she is almost eighteen, she behaves like a fifteen-year-old girl who has led a sheltered life. Because she has. That's fine, if you're okay with heroines lacking maturity, but there's also the problem of the story being pretty predictable, containing a jealous girlfriend who finds it necessary to commit revengeful deeds, as well as a ton of miscommunication.
It's pleasant, and the Indian culture definitely adds originality to the storyline but, if I were you, I wouldn't expect it to be entirely a breath of fresh air. Still, worth a read.
Follow me on:
Youtube | Twitter| Instagram | Google+ | Goodreads | Bloglovin'