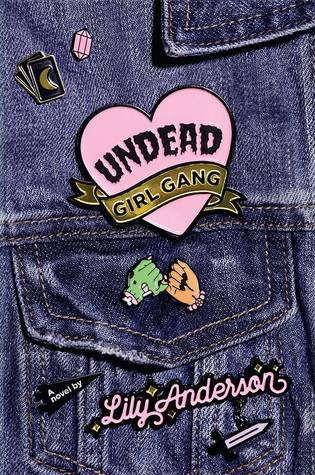 Undead Girl Gang by Lily Anderson
My rating: 2 of 5 stars
Received: Publisher
Published: May 8th, 2018
Publisher: Razorbill
Recommended Age: 12+
Pacing: Normal/Fast
Genres & Themes: Young Adult, Mystery, Paranormal, Witches, Zombies, Mean Girls
---
BLURB:
Mila Flores and her best friend Riley have always been inseparable. There's not much excitement in their small town of Cross Creek, so Mila and Riley make their own fun, devoting most of their time to Riley's favorite activity: amateur witchcraft. So when Riley and two Fairmont Academy mean girls die under suspicious circumstances, Mila refuses to believe everyone's explanation that her BFF was involved in a suicide pact. Instead, armed with a tube of lip gloss and an ancient grimoire, Mila does the unthinkable to uncover the truth: she brings the girls back to life. Unfortunately, Riley, June, and Dayton have no recollection of their murders, but they do have unfinished business to attend to. Now, with only seven days until the spell wears off and the girls return to their graves, Mila must wrangle the distracted group of undead teens and work fast to discover their murderer…before the killer strikes again.
It's good to know that if I had died from boredom reading this book, Mila Flores would have brought me back to life (and my ancestors, too, probably), but I'm rather glad I didn't become a zombie creature roaming the living world for seven days.
Still, it's very underwhelming.
And shocking that a story with such an original and curious premise can be so unimaginative, contain such stereotypical characters, and be not at all funny, despite the constant effort from the author to include humour.
I have mixed feelings about Mila Flores. She's expressive, courageous, determined and a good friend, but she's also sarcastic at all times and not in a smart way, crazy enough to meddle with magic she doesn't really understand, and… kind of judgmental and thoughtless at times.
The problem with paranormal/fantasy stories, I find, is that sometimes the authors focus too much on whatever elements pertaining to these genres the characters are faced with – like magic, zombies, unsolved crimes, you name it – and forget that dimensionalization is necessary.
The un-dead girls, except perhaps Riley, are stereotypical teenage girls who want to shine, kiss, and basically rule the school… They're selfish and behave like the world revolves around them. Riley, on the other hand, is easier to connect with, on the grounds that she usually thinks before she speaks and genuinely loves her best friend Mila, although she is jealous of her relationship with her brother Xander.
It is pretty interesting in the beginning, but that may be because I was excited to read a YA story with a witch as main character, but the magic here is not awe-inspiring or fascinating, the romance (if I can call it that) annoying and the writing no more than ''fine''. The main scenes, like the awakening of the girls, are entertaining.
But ultimately, it feels like the type of book you find in an old stored box you opened recently to find your high school yearbook and stumbled across this book you completely forgot about instead.
Follow me on:
Youtube | Twitter| Instagram | Google+ | Goodreads | Bloglovin'