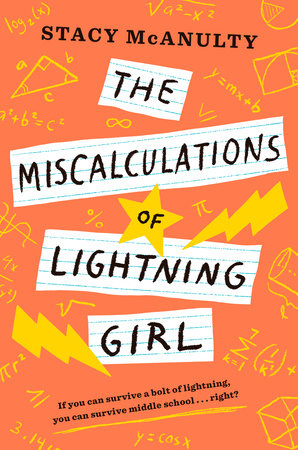 The Miscalculations of Lightning Girl by Stacy McAnulty
My rating: 5 of 5 stars
Received: Publisher
Published: May 1st, 2018
Publisher: Random House
Recommended Age: 8+
Pacing: Normal/Fast
Genres & Themes: Middle Grade, Middle School, Contemporary, Friendship, Adaptation, Community
---
BLURB:
Lucy Callahan was struck by lightning. She doesn't remember it, but it changed her life forever. The zap gave her genius-level math skills, and ever since, Lucy has been homeschooled. Now, at 12 years old, she's technically ready for college. She just has to pass 1 more test — middle school! Lucy's grandma insists: Go to middle school for 1 year. Make 1 friend. Join 1 activity. And read 1 book (that's not a math textbook!). Lucy's not sure what a girl who does calculus homework for fun can possibly learn in 7th grade. She has everything she needs at home, where nobody can make fun of her rigid routines or her superpowered brain. The equation of Lucy's life has already been solved. Unless there's been a miscalculation?
This beautiful book is so under the radar that, out of the 700 magnificent friends that I have on Goodreads, only four have added it to their to-read list.
But none have read it.
I am not mad – I would never force someone to read a book (too forcefully) – but I am a little disappointed, because I do so wish more people knew about it and gave it a chance. What can I say, I go hard for my babies.
The last middle grade story I read, titled Aru Shah and the End of Time, was underwhelming to the point that – and I'm not making this up – I considered giving up on the Middle Grade genre altogether.
I thought it was me. I thought I didn't have the patience necessary to read these ''more juvenile'' stories anymore. But I was wrong to think that, and this moving piece of literature proved that to me.
Such an original premise this book has. It tells the story of Lucy Callahan, a young girl who was struck by lightning at the age of 8 and suddenly became a math genius. She sees numbers everywhere, and unlike me, she can't live without them.
I received this novel in the midst of watching Hidden Figures, an incredible story about three black female mathematicians whose achievements have helped change the world for the better, and it felt like a sign that I needed to read it today of all days and right after washing my face from the tears the movie made me shed.
The writing is perfect for this genre. It is approachable, without being too simplistic, and absolutely pleasant. The storyline is fantastically-engrossing, thus making it possible for me to finish this release in one day and not feel as though I forced myself to do so in any way.
Not only that, but the characters are authentic middle school students. Every part of me believed Lucy's reactions to being thrown into a middle school after years of being homeschooled to be realistic and well told. She is undoubtedly quirky and uncommonly smart, so there's no way she isn't going to steal your heart.
Regardless of the praising above, I can find faults to this book, just like I can to other books. There are common tropes, like a group of mean girls and friendship drama with the foundation of it being miscommunication.
But I thoroughly enjoyed it and couldn't stop reading about the wonderful sensitivity of the characters and the heartfelt community project they started that turned into so much more than they first anticipated.
I could not recommend this enough, especially since it encourages girls' interest in mathematics. I have to say, by the time I turned the last page, I almost began missing solving mathematical problems, something I haven't done in three years. Almost.
Follow me on:
Youtube | Twitter| Instagram | Google+ | Goodreads | Bloglovin'