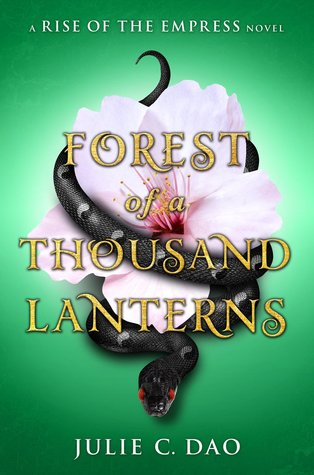 Forest of a Thousand Lanterns by Julie C. Dao
My rating: 2 of 5 stars
Received: Publisher
Published: October 10th, 2017
Publisher: Philomel Books
Recommended Age: 12+
Pacing: Super Slow
Genres & Themes: Young Adult, Fantasy, Retelling, Power
---
BLURB:
Eighteen-year-old Xifeng is beautiful. The stars say she is destined for greatness, that she is meant to be Empress of Feng Lu. But only if she embraces the darkness within her. Growing up as a peasant in a forgotten village on the edge of the map, Xifeng longs to fulfill the destiny promised to her by her cruel aunt, the witch Guma, who has read the cards and seen glimmers of Xifeng's majestic future. But is the price of the throne too high? Because in order to achieve greatness, she must spurn the young man who loves her and exploit the callous magic that runs through her veins–sorcery fueled by eating the hearts of the recently killed. For the god who has sent her on this journey will not be satisfied until his power is absolute.
More like Forest of a Thousand Dull Chapters.
I have nothing against slow-paced books. I think it's a requirement for some stories to take longer to unfold and be detailed, and consequently, descriptive.
You don't, for example, want to read a mystery novel that is not at all mysterious because you barely had time to guess who the killer was that BAAAM! You already finished the book.
But if I'm not interested, it doesn't matter how beautiful your writing is. If I don't care about the characters, it doesn't matter that what they're experiencing is challenging and mentally or physically-exhausting for them. It won't affect me.
And unfortunately, that's what happened here. Retellings fascinate me. We can be deep in conversation, if I hear someone say the word ''retelling,'' I'm going to stop you right there and turn my attention to the one who uttered the magic word. Come here, you!
I liked the idea. An Asian-inspired retelling of The Evil Queen? Hello, how can you not be intrigued? I dare you to yawn. It's a premise that you don't hear every day, and originality is necessary in YA fantasy fiction.
NECESSARY.
And yet I did yawn reading this. And yet I did struggle to sparkle my own interest in the book, because the latter certainly failed to do that.
But it's not my job to make myself actively interested in a story… right? That's the author's job.
Great concept, dull execution.
Follow me on:
Youtube | Twitter| Instagram | Google+ | Goodreads | Bloglovin'