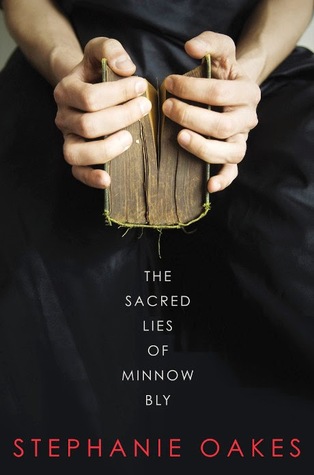 The Sacred Lies of Minnow Bly by Stephanie Oakes
My rating: 4 of 5 stars
Received: Publisher
Published: June 9th, 2015
Publisher: Dial/Penguin
Recommended Age: 13+
Pacing: Normal/Fast
Genres & Themes: Young Adult, Realistic Fiction, Religion, Mystery, Psychological, Justice System
---
BLURB:
The Kevinian cult has taken everything from seventeen-year-old Minnow: twelve years of her life, her family, her ability to trust. And when she rebelled, they took away her hands, too. Now their Prophet has been murdered and their camp set aflame, and it's clear that Minnow knows something—but she's not talking. As she languishes in juvenile detention, she struggles to un-learn everything she has been taught to believe, adjusting to a life behind bars and recounting the events that led up to her incarceration. But when an FBI detective approaches her about making a deal, Minnow sees she can have the freedom she always dreamed of—if she's willing to part with the terrible secrets of her past.
Believe me, Minnow Bly truly is a liar.
She's also very good at making stories sound true, so you won't realize you're in the presence of a skilled storyteller who weaves lies seamlessly in her scenarios until she decides to come clean.
And yet I stand in awe of her.
What happened to her at the Community was atrocious and I couldn't imagine life without at least one hand… Minnow Bly has none. I couldn't imagine it because if someone takes my ability to write away from me, I might go crazy.
But this story is also proof that our species can get used to anything. At some point, the ones who worshiped the Prophet did question him and his ways of dealing with insubordination, but them too eventually turned a blind eye or accepted what they saw in front of them, nonplussed.
This reminds me of that time when I was in high school. I was in my art class and I needed scissors for a project. When I went to choose my scissors, I noticed two different types and I couldn't understand why there were two, so I asked my teacher and she said to me that the other sort was for left-handed people. (In middle school, we didn't have those.)
I am left-handed. But until then I'd been using right-handed scissors, and while supposedly left-handed people can't use those scissors, I could because I'd gotten used to shaping my hand a certain way when I picked them up. No one ever told me – my family included – that I didn't have to struggle with right-handed scissors (which gave me blisters very quickly, although I could cut with them perfectly). Maybe they didn't take my left-handedness into account when they purchased school supplies. Or maybe it's my fault, since I never thought to complain, assuming everyone hurt like I did.
So I didn't know there was a better option for me before.
These two situations are obviously extremely different, but it explains why the Community let the Prophet hurt so many and, of course, take Minnow Bly's hands. He brainwashed everyone, even Minnow Bly to some extent. I couldn't be shocked by this, since over the course of history human beings have ravaged cities in the name of God, though I was fascinated to learn about the heroine's experience at camp and the mystery surrounding the Prophet's death.
I read this 400-page book in one day and two sittings. Yes, it's that captivating and well-written. Normally, I don't like to read books with religious themes, but this came recommended to me by friends and my friends know what will catch my fancy, especially when I am sceptical myself.
Follow me on:
Youtube | Twitter| Instagram | Google+ | Goodreads | Bloglovin'