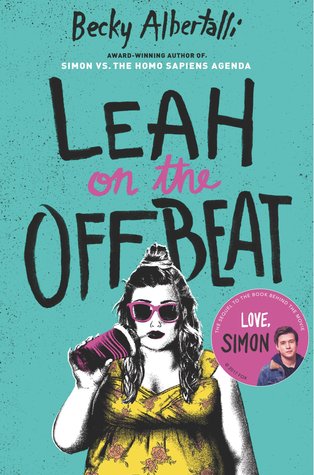 Leah on the Offbeat by Becky Albertalli
My rating: 4 of 5 stars
Received: Borrowed
Published: April 24th, 2018
Publisher: Balzer + Bray
Recommended Age: 12+
Pacing: Normal/Fast
Genres & Themes: Young Adult, Realistic Fiction, Humor, LGBT, High School, Senior Year, Romance, Friendship
---
BLURB:
When it comes to drumming, Leah Burke is usually on beat—but real life isn't always so rhythmic. An anomaly in her friend group, she's the only child of a young, single mom, and her life is decidedly less privileged. She loves to draw but is too self-conscious to show it. And even though her mom knows she's bisexual, she hasn't mustered the courage to tell her friends—not even her openly gay BFF, Simon. So Leah really doesn't know what to do when her rock-solid friend group starts to fracture in unexpected ways. With prom and college on the horizon, tensions are running high. It's hard for Leah to strike the right note while the people she loves are fighting—especially when she realizes she might love one of them more than she ever intended.
Can we all agree that this is one of the best 2018 YA contemporary releases?
(Keep dreaming, Lola.)
There is huge hype surrounding this new title, and I am unashamed to say that I put aside the twenty other books I was reading to focus solely on this one. (Sorry-not-sorry, my lovelies!)
Because it's that good. Because it's that important. And because after watching the movie Love, Simon, I was dying for more Leah & Simon interactions. These two are friendship goals all the way. They're able to uplift my mood in a matter of seconds.
This book may focus on Leah's character, but it doesn't change the fact that it reads like a kind of sequel to Simon vs. the Homo Sapiens Agenda, since it takes place one year after the events following Martin's blackmail and we learn about what everyone is up to this year and the next, at college.
I didn't realize I missed each and every one of these characters so, so much until I started Leah on the Offbeat. Now I want more sequels and spin-offs and short stories… and… and a TV show! Give me everything. These stories are proof that we are headed in the right direction with regards to LGBTQIA+ rights and they make me feel a sort of good that can only be achieved otherwise by, like, eating ice cream and laughing with my girlfriends.
I appreciate books that discuss how hard it is to come out and the fear of people judging who you are and who you love. But it's also very refreshing to read about people who love and respect who they are so much that they're saying, ''The hell with gender roles and norms and society's heterosexual agenda, I'm going to be who I am and never apologize for it.''
Having said that, Leah does want to come out as bisexual to her friends, and she knows it's not going to be a big deal when she does, but she just isn't ready yet. It doesn't eat at her. It doesn't keep her from sleeping well. She simply wants to figure some things out before.
So although it's a feel-good story in many ways, with plenty of teasing between friends, pop culture references and romantic moments, it nevertheless discusses more serious topics, like racism, relationships, insecurities, goodbyes and, of course, bisexuality. Highly recommended.
Follow me on:
Youtube | Twitter| Instagram | Google+ | Goodreads | Bloglovin'