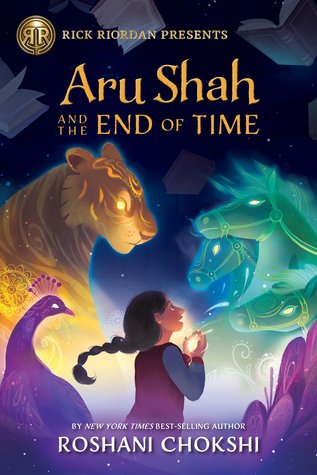 Aru Shah and the End of Time by Roshani Chokshi
My rating: 2 of 5 stars
Received: Borrowed
Published: March 27th, 2018
Publisher: Rick Riordan Presents
Recommended Age: 8+
Pacing: Normal/Fast
Genres & Themes: Middle Grade, Quest, Adventure, Mythology
---
BLURB:
Twelve-year-old Aru Shah has a tendency to stretch the truth in order to fit in at school. While her classmates are jetting off to family vacations in exotic locales, she'll be spending her autumn break at home, in the Museum of Ancient Indian Art and Culture, waiting for her mom to return from her latest archeological trip. Is it any wonder that Aru makes up stories about being royalty, traveling to Paris, and having a chauffeur? One day, three schoolmates show up at Aru's doorstep to catch her in a lie. They don't believe her claim that the museum's Lamp of Bharata is cursed, and they dare Aru to prove it. Just a quick light, Aru thinks. Then she can get herself out of this mess and never ever fib again. But lighting the lamp has dire consequences. She unwittingly frees the Sleeper, an ancient demon whose duty it is to awaken the God of Destruction. Her classmates and beloved mother are frozen in time, and it's up to Aru to save them. The only way to stop the demon is to find the reincarnations of the five legendary Pandava brothers, protagonists of the Hindu epic poem, the Mahabharata, and journey through the Kingdom of Death. But how is one girl in Spider-Man pajamas supposed to do all that?
This book is trying too hard.
I never managed to truly and effectively get a full sense of Aru Shah's personality, because the voice of the author is far more present and loud.
And still, somehow, I managed to dislike Aru. She made me cringe so many times that at some point I was questioning if I was this annoying at the age of twelve. I don't think I thought about picking my nose every day like Aru does.
It is somewhat interesting from start to finish, that I will admit. The mythology spiked my interest and I was curious to see how Aru and her new friend would go about saving the world from the mess Aru created by awakening a demon.
But it's also extremely disappointing, seeing that the only character I adored was Boo and, well, he's a pigeon. Yes, I have a crush on a pigeon, how weird and pathetic is that? I mean, he is incredibly cute and the only fully-fleshed character, as ironic as that sounds.
We also meet other characters along the way, but the problem is they never stay for long, and definitely not long enough for us to form a deep connection to them, plus the majority of mythological creatures in here are either mean or think too highly of themselves. I get it, you're… important, but you don't have to remind us every five seconds.
I am actually shocked I didn't enjoy this, having absolutely loved the author's The Star-Touched Queen duology. Perhaps those of you who couldn't stand the purple prose in that one will find this story more pleasant, since the only thing that's purple about this book is 1/5 of its cover.
For those of you who wonder if it's as good as any of Rick Riordan's works, it's not. It tries to be Percy Jackson here and there, but it fails miserably, and besides, I don't believe it should have tried to begin with.
If only Aru Shah had been a relatable kid and her friend Mini less mousy and a sidekick, I would have ended up loving this to pieces most likely.
But hey, at least there's the pigeon to look forward to meeting. Oh, I am so, so sad.
Follow me on:
Youtube | Twitter| Instagram | Google+ | Goodreads | Bloglovin'