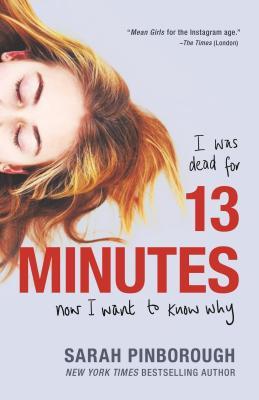 13 Minutes by Sarah Pinborough
My rating: 4 of 5 stars
Received: Distributor
Published: October 3rd, 2017
Publisher: Flatiron Books
Recommended Age: 12+
Pacing: Normal
Genres & Themes: Young Adult, Mystery, High School, Mean Girls, Teenage Drama
---
BLURB:
Natasha is the most popular girl in school. So why was she pulled out of a freezing river after being dead for thirteen minutes? She doesn't remember how she ended up in the icy water that night, but she does know this—it wasn't an accident, and she wasn't suicidal. Now Natasha's two closest friends, who are usually her loyal sidekicks, are acting strangely. Natasha turns to Becca, the best friend she dumped years before, to help her figure out the mystery. At first Becca isn't sure that she even wants to help Natasha. But as she is drawn back into Natasha's orbit, Becca starts putting the pieces together. As an outsider, Becca believes she may be the only one who can uncover the truth…which is far more twisted than she ever imagined.
Well, well, well … I know a couple of new names that belong in the Burn Book.
The names of those who are still alive, anyway. *evil laugh*
Natasha died for 13 minutes. She drowned in the lake. Now, some people believe it was intentional, but why would Natasha, the most popular girl in school, commit suicide?
And why are Hayley and Jenny, her closest friends, acting so weird lately?
I needed a mystery book with teenage drama. Normally I'm not so specific about what I need, but I thought I'd read this book instead of watching Mean Girl for the hundredth time.
Man, I forgot how mean girls can be in high school. They can be mean in university, too, but not so much directly to your face anymore. In university, they're real sneaky about it, which is good, because you can easily ignore them.
I felt thoroughly captivated by this story. Granted, some parts are predictable, and at some point you wonder when you're going to be blown away.
Oh, you will. You will so much that you're going to want to re-read some parts to spot the clues that previously went over your head. I especially liked the format, with journal entries, interviews and text messages in addition to the usual narration style found in those things called books.
I didn't exactly get attached to the characters, since most of them are stereotypical and shallow and that boy drama sure didn't help make them more three-dimensional, but watching drama unfold in their lives made my day. As long as it's not my drama, I can welcome it with open arms.
As I said, I was in the mood for such a story. If you're not, definitely don't pick it up. But if you are, you're going to be quite entertained. Also, I'm so very satisfied with the ending. *evil laugh*
Follow me on:
Youtube | Twitter| Instagram | Google+ | Goodreads | Bloglovin'