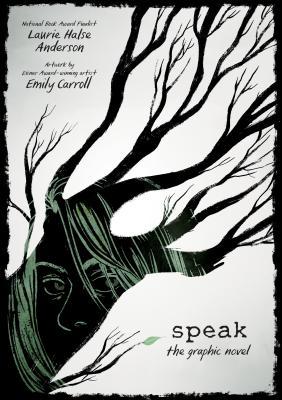 Speak: The Graphic Novel by Laurie Halse Anderson & Emily Carroll
My rating: 4 of 5 stars
Received: Distributor
Published: February 6th, 2018
Publisher: Farrar, Straus & Giroux (BYR)
Recommended Age: 12+
Pacing: Slow/Normal
Genres & Themes: Young Adult, Graphic Novel, Abuse, High School, Depression
---
BLURB:
From the first moment of her freshman year at Merryweather High, Melinda knows this is a big fat lie, part of the nonsense of high school. She is friendless–an outcast–because she busted an end-of-summer party by calling the cops, so now nobody will talk to her, let alone listen to her. Through her work on an art project, she is finally able to face what really happened that night: She was raped by an upperclassman, a guy who still attends Merryweather and is still a threat to her.
It's rare for me to enjoy an adaptation more than the original version of the story, but I found this graphic novel adapted from the novel Speak twice as affective as the book itself.
It affected me.
As I read this story, I thought about why that is. I was never raped. I was never close to being raped. I was touched inappropriately by guys and men without my permission, but certainly nothing like Melinda endured.
But it's such a universal theme – consent.
Everyone, whether you're a boy or a girl, a man or a woman, or both, you understand that there are boundaries – or there should be – between people and no one should ever cross those boundaries unless you allow that to happen.
No one should touch you if you don't want them to. No one should kiss you if you don't want them to. No one should even hug you if you don't want them to, if the people make you uncomfortable.
And of course, no one should use you like a sex toy. Ever.
IT, the teenage boy who raped Melinda, made the hair on my arms stand up. It's not that he scared me per se, but the fact that he was able to smile so nonchalantly after committing a crime (and not realizing that what he did was wrong) creeped me out.
That kind of person does not understand the need for boundaries and the importance of consent. That kind of person takes what they want and doesn't look behind as the other person's world is unravelling.
That kind of person, unless caught, becomes an adult, becomes a parent maybe, and has a little girl or boy… and what then? How can that person teach their little girl or boy about respect and consent if they don't understand it themselves?
In my review of the novel, I mentioned feeling disappointed that IT's personal life is never revealed, that we know close to nothing about him except for what he did to Melinda and other people.
But I was wrong to feel disappointed. We don't need to empathize with IT, and it's certainly easy not to when we learn that he is rich and popular and gets any girl he wants. Even if his father had been abusive to him and this was revealed to us, that wouldn't make his own behaviour any less wrong.
I seem angry right now. I'm actually not. I'm very satisfied, and you will be, too.
Follow me on:
Youtube | Twitter| Instagram | Google+ | Goodreads | Bloglovin'