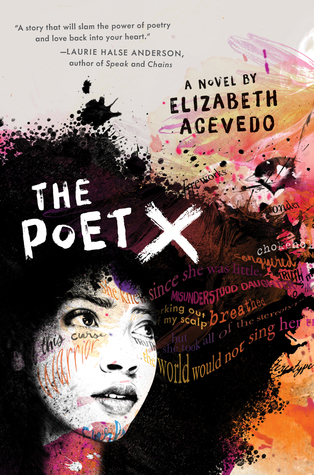 The Poet X by Elizabeth Acevedo
My rating: 4 of 5 stars
Received: Publisher
Published: March 6th, 2018
Publisher: Harper Teen
Recommended Age: 12+
Pacing: Normal
Genres & Themes: Young Adult, Poetry, Romance, Family Relationships, Religion, Drama, High School, Feminism
---
BLURB:
Xiomara Batista feels unheard and unable to hide in her Harlem neighborhood. Ever since her body grew into curves, she has learned to let her fists and her fierceness do the talking. But Xiomara has plenty she wants to say, and she pours all her frustration and passion onto the pages of a leather notebook, reciting the words to herself like prayers—especially after she catches feelings for a boy in her bio class named Aman, who her family can never know about. With Mami's determination to force her daughter to obey the laws of the church, Xiomara understands that her thoughts are best kept to herself. So when she is invited to join her school's slam poetry club, she doesn't know how she could ever attend without her mami finding out, much less speak her words out loud. But still, she can't stop thinking about performing her poems. Because in the face of a world that may not want to hear her, Xiomara refuses to be silent.
WARNING: Bad poetry ahead.
I stand here, and I think,
if there is one thing I want to say,
to Xiomara,
it's that she is proof effervescent passion and love,
transcend hate.
Words have the power,
to open your chest,
and pull your heart out,
and carry it to the sky.
But if those words are not expressed,
if they remain imprisoned,
and you remain restrained,
you will never feel freedom.
I want to let them free,
to let them fly,
to let them breathe,
to let me cry,
my emotions out,
to form a pool,
that becomes a sanctuary.
So that happened. Yeah. Never wrote a poem in my life. And now I've written four (bad ones). I guess I can only improve from here.
But seriously, gorgeous book. If you've enjoyed One by Sarah Crossan, you'll love this for sure.
Follow me on:
Youtube | Twitter| Instagram | Google+ | Goodreads | Bloglovin'