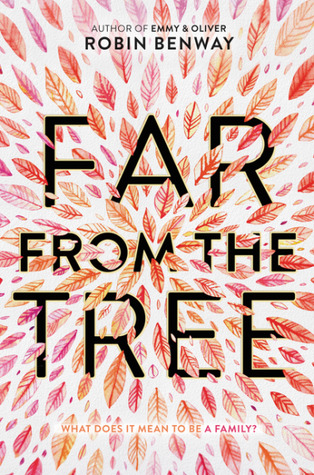 Far from the Tree by Robin Benway
My rating: 2 of 5 stars
Received: Borrowed
Published: October 2017
Publisher: Harper Teen
Recommended Age: 12+
Pacing: Normal
Genres & Themes: Young Adult, Poetry, Siblings, Realistic Fiction, Family Drama, Adoption
---
BLURB:
Being the middle child has its ups and downs, But for Grace, an only child who was adopted at birth, discovering that she is a middle child is a different ride altogether. After putting her own baby up for adoption, she goes looking for her biological family, including Maya, her loudmouthed younger bio sister, who has a lot to say about their newfound family ties. Having grown up the snarky brunette in a house full of chipper redheads, she's quick to search for traces of herself among these not-quite-strangers. And when her adopted family's long-buried problems begin to explode to the surface, Maya can't help but wonder where exactly it is that she belongs. And Joaquin, their stoic older bio brother, who has no interest in bonding over their shared biological mother. After seventeen years in the foster care system, he's learned that there are no heroes, and secrets and fears are best kept close to the vest, where they can't hurt anyone but him.
Hello readers, it is I, the Black Sheep. Missed me?
(No.)
Just yesterday I was telling myself how wonderful my reads have been lately. And voilà! I have jinxed myself instantly.
I tried, I really did. Then I tried some more, because I am familiar with this author, but alas nothing.
Nothing. My heart feels nothing. It should be devastated or filled with admiration or, I don't know, just *feel* something. Goddamn, why can't you feel something, heart?
Now I don't want my heart to be giving me a heart attack out of spite, so I will stop insulting it. It is what it is.
I won't deny that this is an important book. Three siblings who are reunited? That's incredible! I've seen it on TV many times before, and I've read different stories with characters in the foster care system (try One for the Murphys right now!) but I thought I should give this a chance nonetheless.
And it's fine. It's okay. It's readable. The story didn't impress me, and I found the writing dry, and the characters two-dimensional, but I guess I could have finished it if I had had the time, but I knew that by the end of it I wouldn't be able to give it higher than three stars, and that's just sad.
The author's choice to write it in the third person point of view befuddles me. Why oh why did you do that, dear Robin Benway? I have read books from her written in the first person point of view and I enjoyed them much more.
It would have been fine if it hadn't made me feel disconnected from the characters. Again, they're alright, but I couldn't care enough to imagine myself being in their situation and I try as much as I can to do that in order to understand them better and, again, *connect*.
I might give this another try in the future. Or I might not. Anyways, it's a DNF at 25% for now.
Follow me on:
Youtube | Twitter| Instagram | Google+ | Goodreads | Bloglovin'