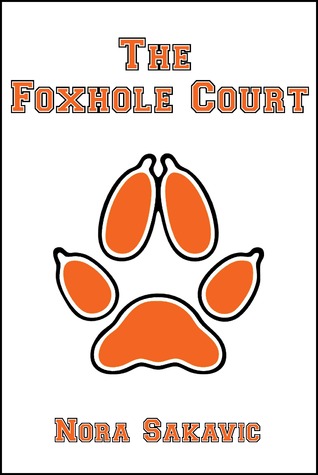 The Foxhole Court by Nora Sakavic
My rating: 4 of 5 stars
Received: Borrowed
Published: 2013
Publisher: Self-Published
Recommended Age: 14+
Pacing: Fast
Genres & Themes: Young Adult, Sports, Drama, College, Survival, Friendship
---
BLURB:
Neil Josten is the newest addition to the Palmetto State University Exy team. He's short, he's fast, he's got a ton of potential—and he's the runaway son of the murderous crime lord known as The Butcher. Signing a contract with the PSU Foxes is the last thing a guy like Neil should do. The team is high profile and he doesn't need sports crews broadcasting pictures of his face around the nation. His lies will hold up only so long under this kind of scrutiny and the truth will get him killed. But Neil's not the only one with secrets on the team. One of Neil's new teammates is a friend from his old life, and Neil can't walk away from him a second time. Neil has survived the last eight years by running. Maybe he's finally found someone and something worth fighting for.
Who needs a TV drama when you have The Foxhole Court?
Danger, intensity, sports, addiction, illegal activity, reckless characters… You have it all.
One thing you do not have, however, is this: romance. Not yet, anyway, though the author teases you here and there. The first time I picked it up, two years ago, I did so because I saw the theme ''lgbt'' in its book description, and I was desperately in need of a sexy gay ship.
And so when I read the first chapters and realized that no romance seemed to be developing between the main character and another guy, I started to lost interest.
It takes time for it to appear, and even now I have no idea if it's going where I think it is.
But seeing how popular this series is, I decided to give a second chance, with my friend Yusra, this time without expecting anything.
Boy was that the way to go. Going into a book having no expectations whatsoever means that there's no way you can be crushed with disappointment. First time I tried reading it two years ago, I gave it a one-star-rating, so it could only go up from there.
This story is crazy, as are the majority of the characters. And they all have such a huge presence in the story that it's hard to not notice them or pay them no mind.
They are messed up in their own respective ways. No one is perfect. That's the point… bringing together a group of misfits that both hate and love each other and train them to become one single family on the field.
Well that needs additional work, but I'm excited to see them play some more. Funny thing is, I actually don't bother with sports in real life, but somehow I was on the edge of my seat reading the sports-related scenes in this one.
Now I really want to go on Amazon.ca and buy the hard copies and frame them and put them on my bedroom walls and stare at them every night before going to sleep… and what is happening to me?
Follow me on:
Youtube | Twitter| Instagram | Google+ | Goodreads | Bloglovin'