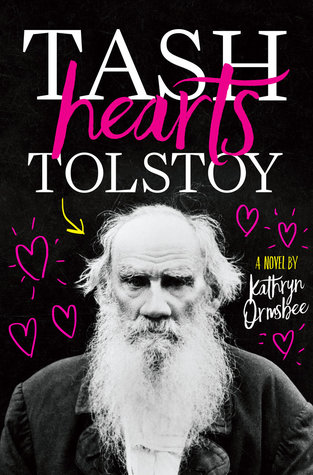 Tash Hearts Tolstoy by Kathryn Ormsbee
My rating: 3.5 of 5 stars
Received: Borrowed
First Published: June 6th, 2017
Publisher: Simon & Schuster
Recommended Age: 13+
Pacing: Normal
Genres & Themes: Young Adult, Romance, Asexuality, Filmmaking, Family & Friendship Dynamics
---
BLURB:
After a shout-out from one of the Internet's superstar vloggers, Natasha "Tash" Zelenka finds herself and her obscure, amateur web series, Unhappy Families, thrust into the limelight: She's gone viral. Her show is a modern adaptation of Anna Karenina—written by Tash's literary love Count Lev Nikolayevich "Leo" Tolstoy. Tash is a fan of the forty thousand new subscribers, their gushing tweets, and flashy Tumblr GIFs. Not so much the pressure to deliver the best web series ever. And when Unhappy Families is nominated for a Golden Tuba award, Tash's cyber-flirtation with Thom Causer, a fellow award nominee, suddenly has the potential to become something IRL—if she can figure out how to tell said crush that she's romantic asexual. Tash wants to enjoy her newfound fame, but will she lose her friends in her rise to the top? What would Tolstoy do?
Tash is asexual, but you know what? That is not all this book is about.
The representation is done well. And I don't mind books that discuss a person's sexual orientation, or in this case lack of sexual desire for people, in every chapter. I don't because it's alright for the main character to be confused and need to explore who they truly are, but it's also refreshing to read a book about an asexual girl who, yes, does need to figure some things out as well, but who still knows that her being ace is not the most interesting or important fact about her.
It is not all that she is.
There is no plot. It may seem like there is from the summary, and I sure expected there to be one, but the truth is that the convention she was invited to after receiving her ''Golden Tuba'' nomination is only a small, minuscule part of the novel.
And while it may also seem like Tash is stressing out about having to tell Thom, the boy she is in contact with, that she is asexual, she is not the kind of fictional teenage girl who thinks about boys every single minute of the day.
So this is a story about many things: A girl's love of filmmaking and dedication to her art. Her relationship with her family, who has quite an important announcement to make, as well as with her sister, who is off to college at the end of summer. It's about friendship and putting differences aside. It's about focusing on what matters and what we have in common with a person more than what creates a drift between us. It's about accepting oneself and being unapologetic about it.
And finally, it's about growing up and realizing some fantasies are just that—fantasies.
I would gladly have given it a four-star-rating if it hadn't dragged and if I hadn't thought that the convention would be an important part of the story. I kept waiting for her to get there and meet Thom, but if you're waiting for that as well, let me tell you that you'll wait a very, very long time. Fortunately, Tash's relatability made my day, the romance surprised me and the secondary characters (Jack, I'm looking at you!) grew on me gradually but deeply. No one is perfect, everyone is flawed.
And that's fantastic.
Follow me on:
Youtube | Twitter| Instagram | Google+ | Goodreads | Bloglovin'