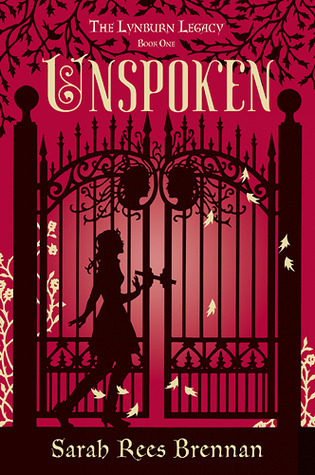 Unspoken by Sarah Rees Brennan
My rating: 5 of 5 stars
Received: Publisher
First Published: September 11th, 2012
Publisher: Random House BFYR
Recommended Age: 12+
Pacing: Normal
Genres & Themes: Young Adult, Fantasy, Paranormal, Soulmates, Love-triangle, Friendship, Mystery, Gothic, Family
---
BLURB:
Kami Glass loves someone she's never met… a boy she's talked to in her head ever since she was born. She wasn't silent about her imaginary friend during her childhood, and is thus a bit of an outsider in her sleepy English town of Sorry-in-the-Vale. Still, Kami hasn't suffered too much from not fitting in. She has a best friend, runs the school newspaper, and is only occasionally caught talking to herself. Her life is in order, just the way she likes it, despite the voice in her head. But all that changes when the Lynburns return. The Lynburn family has owned the spectacular and sinister manor that overlooks Sorry-in-the-Vale for centuries. The mysterious twin sisters who abandoned their ancestral home a generation ago are back, along with their teenage sons, Jared and Ash, one of whom is eerily familiar to Kami. Kami is not one to shy away from the unknown—in fact, she's determined to find answers for all the questions Sorry-in-the-Vale is suddenly posing. Who is responsible for the bloody deeds in the depths of the woods? What is her own mother hiding? And now that her imaginary friend has become a real boy, does she still love him? Does she hate him? Can she trust him?
Take this quiz to learn if your brain would appreciate this read.
1. When you hear the word ''love-triangle,'' you:
(a) Scream at the top of your lungs and rush out the room, pushing anyone standing in your way.
(b) Raise an eyebrow.
2. On a Friday night, you'd rather:
(a) Talk to your crush on the telephone.
(b) Investigate a potential murder scene.
3. You often dream about:
(a) Talking animals chasing you to the edge of a cliff.
(b) Being connected to someone beyond humanly possible.
4. If your best friend tells you your outfit makes you look fat, you:
(a) Immediately take offense and storm out the door.
(b) Do a runway walk in front of them, attitude on power mode.
5. Family, to you, is:
(a) Just another word in the English language.
(b) The pillar of this earth.
6. You can stand people thinking you're a little odd, but you can't stand them thinking you're:
(a) Self-absorbed.
(b) A liar.
7. Sometimes you wonder if:
(a) You should dye your hair a different colour.
(b) You're an extraterrestrial creature that was placed on this planet by mistake.
8. And finally, you respond better to these three words:
(a) Contemporary, high school, romance.
(b) Fantasy, gothic, mysterious.
Now for the results:
If you have a majority of (a), get out of here.
If you have a majority of (b), congrats! You have been chosen by the universe to be the next reader of Unspoken.
Follow me on:
Youtube | Twitter| Instagram | Google+ | Goodreads | Bloglovin'