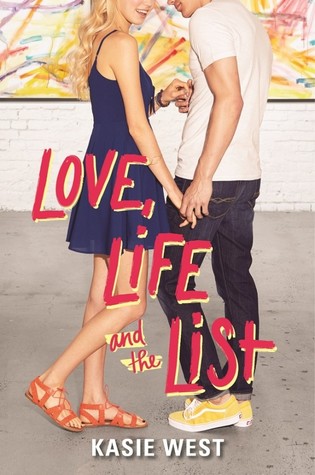 Love, Life, and the List by Kasie West
My rating: 2 of 5 stars
Received: Borrowed
First Published: December 2017
Publisher: Harper Teen
Recommended Age: 11+
Pacing: Fast
Genres & Themes: Young Adult, Light, Contemporary Romance, Art
---
BLURB:
Seventeen-year-old Abby Turner's summer isn't going the way she'd planned. She has a not-so-secret but definitely unrequited crush on her best friend, Cooper. She hasn't been able to manage her mother's growing issues with anxiety. And now she's been rejected from an art show because her work "has no heart." So when she gets another opportunity to show her paintings Abby isn't going to take any chances. Which is where the list comes in. Abby gives herself one month to do ten things, ranging from face a fear (#3) to learn a stranger's story (#5) to fall in love (#8). She knows that if she can complete the list she'll become the kind of artist she's always dreamed of being. But as the deadline approaches, Abby realizes that getting through the list isn't as straightforward as it seems… and that maybe—just maybe—she can't change her art if she isn't first willing to change herself.
I have officially outgrown Kasie West.
If we're completely honest with each other, I knew this day would come eventually. I didn't think it would be so soon, but then again, Kasie West has published three books in 2017, so it's normal that I have rapidly realized this author is just not for me anymore.
I will never hate her novels. I have never, and even if I do continue reading her books (which I doubt will happen), there is no chance of me wanting to burn any of her writings in the future. Because I do believe she has talent, and her humour is my kind of humour.
But she isn't growing as an author. Her most read book is actually her debut titled The Distance Between Us, and let's face it, everything that has come after that one has been a different story but with a similar enough heroine, tone, writing style…
I once found her novels unique, seeing that she does have her signature style, but the more I read her, the less impressed I am. Just like Abby's art, her stories lack depth. They aren't one-dimensional exactly, because they do contain heart (another thing Abby's art supposedly lacks) but Ms. West doesn't do enough research before crafting her stories.
For instance, Abby, as we have established, is an artist. She paints, and apparently she's done so since before she can remember. Fantastic. But that's not going to convince me, the reader, that Abby knows painting better than she knows everything else in the world. Kasie West should have described her art in detail in the first chapters, so we could truly feel bad about her being rejected from the show. And yet, all that we know is that her paintings are based on pictures.
Normally I would say that you can do better, Ms. West, but now I don't know anymore. Maybe stories that are deep, serious and realistic all at once are not your style and never will be. Maybe you just like swimming in clichés (a heroine in love with her best friend, really?). I don't, so this is our tearless goodbye.
Follow me on:
Youtube | Twitter| Instagram | Google+ | Goodreads | Bloglovin'