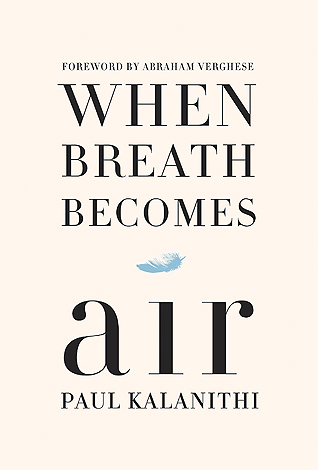 When Breath Becomes Air by Paul Kalanithi
My rating: 4 of 5 stars
Received: Publisher
First Published: January 19th, 2016
Publisher: Random House
Recommended Age: 16+
Pacing: Normal
Genres & Themes: Adult, Nonfiction, Memoir, Medicine, Philosophy, Life
---
BLURB:
At the age of thirty-six, on the verge of completing a decade's worth of training as a neurosurgeon, Paul Kalanithi was diagnosed with stage IV lung cancer. One day he was a doctor treating the dying, and the next he was a patient struggling to live. And just like that, the future he and his wife had imagined evaporated. When Breath Becomes Air chronicles Kalanithi's transformation from a naïve medical student "possessed," as he wrote, "by the question of what, given that all organisms die, makes a virtuous and meaningful life" into a neurosurgeon at Stanford working in the brain, the most critical place for human identity, and finally into a patient and new father confronting his own mortality.
Imagine being sick and dying slowly, without knowing how long you have left.
Long enough to keep going on as you did before: working, planning, and dreaming of a future, or long enough to live life like there is no tomorrow?
Paul's calling—neurosurgery—pulled him back to work even as he knew he was ill, because he couldn't envision leaving it behind to focus on making the most of the perhaps little (or long) time he has left.
At the same time, he realized neurosurgery brings him joy—and so does his family, who have supported him from the start, especially his wife. He mentioned at the beginning of the book that cancer may have just saved his marriage, and while that seems crazy, it is also incredibly true in his case.
Paul brings us back to his adolescence and college years to make us see why he changed his path so drastically—from studying the written word to studying dead bodies. I was fascinated as he explained his fascination with "what makes life meaningful, even in the face of death."
Ironically enough, for a long time he wanted to somewhat decipher death, and be able to witness it firsthand—which he did, and yet his illness allowed him to comprehend and think about life like he never did before.
Not only is this insightful, honest, important, touching and beautiful, it's also educational. I feel as though I understand my place in the world better than I did yesterday. And I have a newfound respect for doctors and medicine.
Follow me on:
Youtube | Twitter| Instagram | Google+ | Goodreads | Bloglovin'