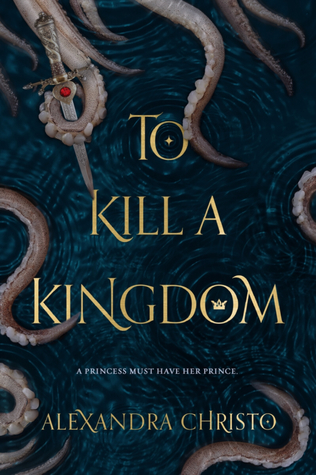 To Kill a Kingdom by Alexandra Christo
My rating: 3 of 5 stars
Received: Borrowed
First Published: March 6th, 2018
Publisher: Feiwel & Friends
Recommended Age: 13+
Pacing: Fast
Genres & Themes: Young Adult, Fantasy, Dark, Fairytale Retelling, The Little Mermaid, Forbidden Love, Mother Issues
---
BLURB:
Princess Lira is siren royalty and the most lethal of them all. With the hearts of seventeen princes in her collection, she is revered across the sea. Until a twist of fate forces her to kill one of her own. To punish her daughter, the Sea Queen transforms Lira into the one thing they loathe most—a human. Robbed of her song, Lira has until the winter solstice to deliver Prince Elian's heart to the Sea Queen or remain a human forever. The ocean is the only place Prince Elian calls home, even though he is heir to the most powerful kingdom in the world. Hunting sirens is more than an unsavory hobby—it's his calling. When he rescues a drowning woman in the ocean, she's more than what she appears. She promises to help him find the key to destroying all of sirenkind for good—But can he trust her? And just how many deals will Elian have to barter to eliminate mankind's greatest enemy?
A bewitchingly dark retelling of The Little Mermaid.
In which both the siren princess and human prince want to cut each other's throats if that's the last thing they do.
Lovely. My newfound love of dark fairytale retellings—caused by Lost Boy: The True Story of Captain Hook—propelled me to read this book.
How could I ever go back to the innocent Disney tales I read as a child that would make me dream of a boundless future? This is atmospheric to the point that I felt Lira and Elian's hate for each other in the marrow of my bones.
And I loved that. Especially since I found the original prince in The Little Mermaid rather one-dimensional, whereas Elian's personality is attractive. No wonder his crew is so loyal to him: he's authoritarian without being tyrannical, smart with a bit of smugness showing through, and as dashing on a ship as inside a palace.
But this is very much a debut: the world-building is limited, the action scenes various but short (not enough intensity), the romance pleasant but not particularly romantic, and the Sea Queen the stereotypical mother who can never be pleased because she has high expectations… on crack (so a not-so-surprising version of Ursula).
On the other hand, it is a fast-paced addictive story that makes you wish more books about sirens and pirates were published, with characters that constantly do the unexpected.
The author seriously needs to work on her fighting scenes, but To Kill a Kingdom is a decent source of entertainment. For fans of Daughter of the Pirate King.
Follow me on:
Youtube | Twitter| Instagram | Google+ | Goodreads | Bloglovin'