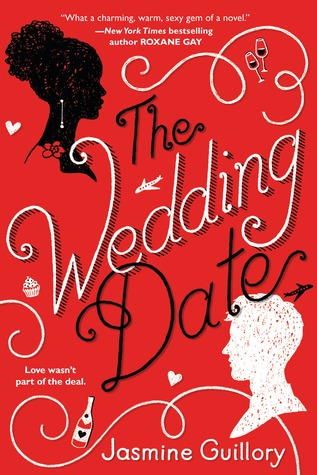 The Wedding Date by Jasmine Guillory
My rating: 3.5 of 5 stars
Received: Publisher
First Published: January 30th, 2018
Publisher: Berkley
Recommended Age: 14+
Pacing: Normal
Genres & Themes: Adult, Contemporary Romance, Relationships, Light read
---
BLURB:
Agreeing to go to a wedding with a guy she gets stuck with in an elevator is something Alexa Monroe wouldn't normally do. But there's something about Drew Nichols that's too hard to resist. On the eve of his ex's wedding festivities, Drew is minus a plus one. Until a power outage strands him with the perfect candidate for a fake girlfriend… After Alexa and Drew have more fun than they ever thought possible, Drew has to fly back to Los Angeles and his job as a pediatric surgeon, and Alexa heads home to Berkeley, where she's the mayor's chief of staff. Too bad they can't stop thinking about the other… They're just two high-powered professionals on a collision course toward the long distance dating disaster of the century–or closing the gap between what they think they need and what they truly want…
While it's true that the best day to read this contemporary romance is on Valentine's Day, as the cover loves to imply, I wasn't sure about it back in February.
Then I changed my mind. Sometimes you really do need to trust a book's cover when it tells you that you're about to read an adorable and romantic story that will entertain you and warm your heart.
THE WEDDING DATE did that to me. How could it have not? My experience reading it turned out to be exactly like watching a romantic comedy movie. That's because this author doesn't overdo it, meaning that you won't find entire pages filled with the characters trying to figure out their own emotions, pondering, pondering, pondering.
Thank goodness. I often do not read contemporary romance because of this reason. Although I think descriptive emotions can help create a connection between the reader and the protagonists, if it's not done well, it can make for a tiring and repetitive read.
I don't know anyone whose love story started with getting stuck on an elevator with a hot guy, so I can't tell you that it's a plausible situation, but I *can* tell you that once you get past the awkward encounter and fake relationship, you'll enjoy the story more.
For the first hundred pages, the dialog feels very forced. It didn't make me cringe, fortunately, but I couldn't picture anyone in real life saying those things without the other person pointing out how corny, cliché, cheesy they're being.
After the wedding, however, the characters can start to act normally, without pretending to be each other's boyfriend and girlfriend in front of the bride, groom and the rest of the guests. That's when we're able to see Alexa and Drew's real personalities and attitudes toward one another come out.
I also appreciated the fact that the author didn't just focus on Alexa and Drew's relationship, actually diving deep into Alexa's community project, making me care enough about it to wish I'd been there to encourage her on it myself. And though the times Alexa brought up race with Drew were a little uncomfortable, I'm glad she did. It would have been unrealistic if she hadn't.
I'm tempted to give this one a four-star-rating, since the more I read, the more I warmed up to this couple, but I can't forget how disconnected I felt in the beginning. But to end this on a bright note, I know I will be rereading this in the future and will enjoy it even more the second time around.
Follow me on:
Youtube | Twitter| Instagram | Google+ | Goodreads | Bloglovin'